Date:
May 3, 2013
Contact:
Faye Walmsley
, 573-323-4844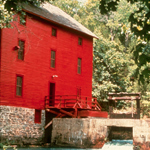 Van Buren and Eminence, MO- With the warmer temperatures, Ozark National Scenic Riverways has expanded operations for the visiting public."The public is invited to visit and enjoy the park's resources this spring," states Superintendent Bill Black.
Beginning Saturday, May 4, 2013, the historic Alley Mill near Eminence will be open from 9:00 a.m. - 4:45 p.m. After May 4, the mill will be open Sundays, Fridays, and Saturdays until Memorial Day weekend and daily afterwards.
Beginning Saturday, May 18, the Visitor Contact Station located in Van Buren will be open daily including Saturdays, Sundays, and holidays from 8:00 a.m. - 4:30 pm throughout the summer season.View the new lobby exhibit The Civil War in Missouri, Kansas, and Arkansas which recognizes the American Civil War Sesquicentennial.The display explores the causes of the Civil War, the Midwest geography of its rivers, the Ozark Highlands effect on the war's military actions in the area, and the personal impacts on the Ozark civilians caught in the middle of two warring armies.
For more information, phone (573) 323-4236 during daily business hours 8:00 a.m. to 4:30 p.m. or visit the park's website at www.nps.gov/ozar. Ozark National Scenic Riverways preserves the free-flowing Current and Jacks Fork Rivers, the surrounding natural resources, and the unique cultural heritage of the Ozark people.