News Release
Local Artist Handcrafts Missouri Ornaments to Accompany the National Christmas Tree in Washington, D.C.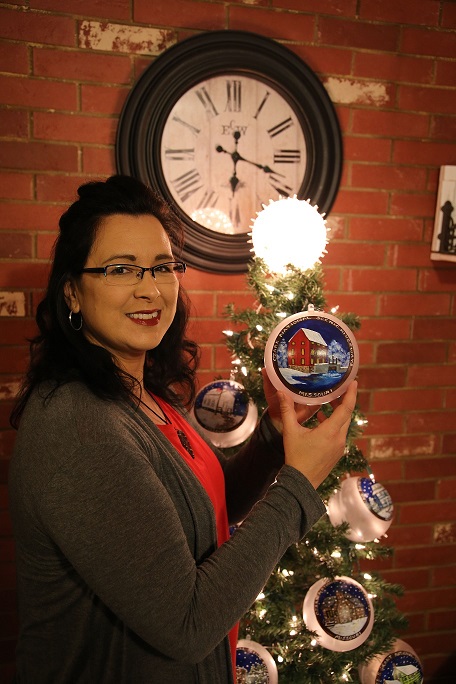 News Release Date:
November 16, 2017
Contact: Dena Matteson, 573-323-4814
Contact: Shelby Galvin, 202-619-7186
EMINENCE, MO: Ornaments by a local Missouri artist will dazzle President's Park (White House) in Washington, D.C. as part of the 95th annual National Christmas Tree Lighting display. Jennifer Dodson, from Eminence, designed ornaments that showcase historic structures from national parks and historic sites in Missouri, with an emphasis on Ozark National Scenic Riverways, which graces six of the twelve ornaments. Ms. Dodson was nominated for this honor by Ozark National Scenic Riverways, where her talents as a volunteer artist are well-known.
The handcrafted ornaments will adorn one of 56 trees representing each U.S. state, territory and the District of Columbia from December 1, 2017 through January 1, 2018 as part of the America Celebrates display. "It is such an honor to decorate my home state tree and help the nation celebrate the holidays in one of our most recognizable national parks - this is a once-in-a lifetime opportunity," said Jennifer Dodson. "I get the unique opportunity to show the nation many of Missouri's crown jewels, and also pay tribute to my home park, Ozark National Scenic Riverways, which was recently devastated by record flooding in late April of this year. I want to celebrate the spirit of recovery and resilience that have been demonstrated by the people of our area and convey the message that although we have been bruised a bit, we are alive and ready for visitors!" 
The artist chose to paint historic structures because they have stood the test of time and are of great cultural significance, with each having a unique story to tell. The ornaments depict snow scenes, representing the serenity and peace which abound in many of the parks, particularly in winter months. "One can stand at any given area of the Ozark National Scenic Riverways during a snowstorm in the off-season and actually hear the snow falling on the ground," said the artist. 
Ms. Dodson's ornaments depicting Ozark National Scenic Riverways include: Alley Spring Mill, Storys Creek Schoolhouse, Klepzig Mill, the Chilton House, Welch Hospital, and Big Spring Lodge. In addition to featuring Ozark Riverways, Dodson painted ornaments to represent Jefferson National Expansion Memorial (Gateway Arch), Ulysses S. Grant National Historic Site (White Haven), Harry S Truman National Historic Site (Truman Home), George Washington Carver National Monument (Moses Carver House), Wilson's Creek National Battlefield (Ray House), and Mark Twain National Forest (Falling Spring Mill). The back of each ornament is painted with a unique date logo, depicting the state of Missouri and a dot representing the location of each featured site. Each six-inch globe ornament took approximately four hours to paint.  
Presented by the National Park Service and National Park Foundation, the National Christmas Tree Lighting is one of America's oldest holiday traditions. The first lighting took place 95 years ago on Christmas Eve in 1923, when President Calvin Coolidge lit a Christmas tree in front of 3,000 spectators on the Ellipse. Since 1923, each succeeding president has carried on the tradition. 
Ms. Dodson looks forward to attending the Lighting Ceremony on 

November 30

. 
For more event information and updates, please visit www.thenationaltree.org and follow the National Christmas Tree on Twitter at @TheNationalTree. Join the conversation online using the hashtag #NCTL2017. Through a partnership with the National Park Foundation, the official charity of America's national parks, Hallmark Channel will exclusively broadcast the National Christmas Tree Lighting on 

December 4, 2017

.
About Ozark National Scenic Riverways
. Ozark National Scenic Riverways preserves the free-flowing Current and Jacks Fork Rivers, the surrounding resources, and the unique cultural heritage of the Ozark people. For more information, call (573) 323-4236; visit the park's Facebook page, or website at www.nps.gov/ozar.
About the National Park Service. More than 20,000 National Park Service employees care for America's 417 national parks and work with communities across the nation to help preserve local history and create close-to-home recreational opportunities. The National Park Service has cared for the White House and its grounds since 1933. President's Park, which includes the Ellipse and Lafayette Park, was officially included in the national park system in 1961.
About the National Park Foundation. The National Park Foundation is the official charity of America's national parks and nonprofit partner to the National Park Service. Chartered by Congress in 1967, the National Park Foundation raises private funds to help PROTECT more than 84 million acres of national parks through critical conservation and preservation efforts, CONNECT all Americans with their incomparable natural landscapes, vibrant culture and rich history, and INSPIRE the next generation of park stewards. In 2016, commemorating the National Park Service's 100th anniversary, the Foundation launched The Centennial Campaign for America's National Parks, a comprehensive fundraising campaign to strengthen and enhance the future of these national treasures for the next hundred years. Find out more and become a part of the national park community at www.nationalparks.org.
Last updated: December 19, 2017