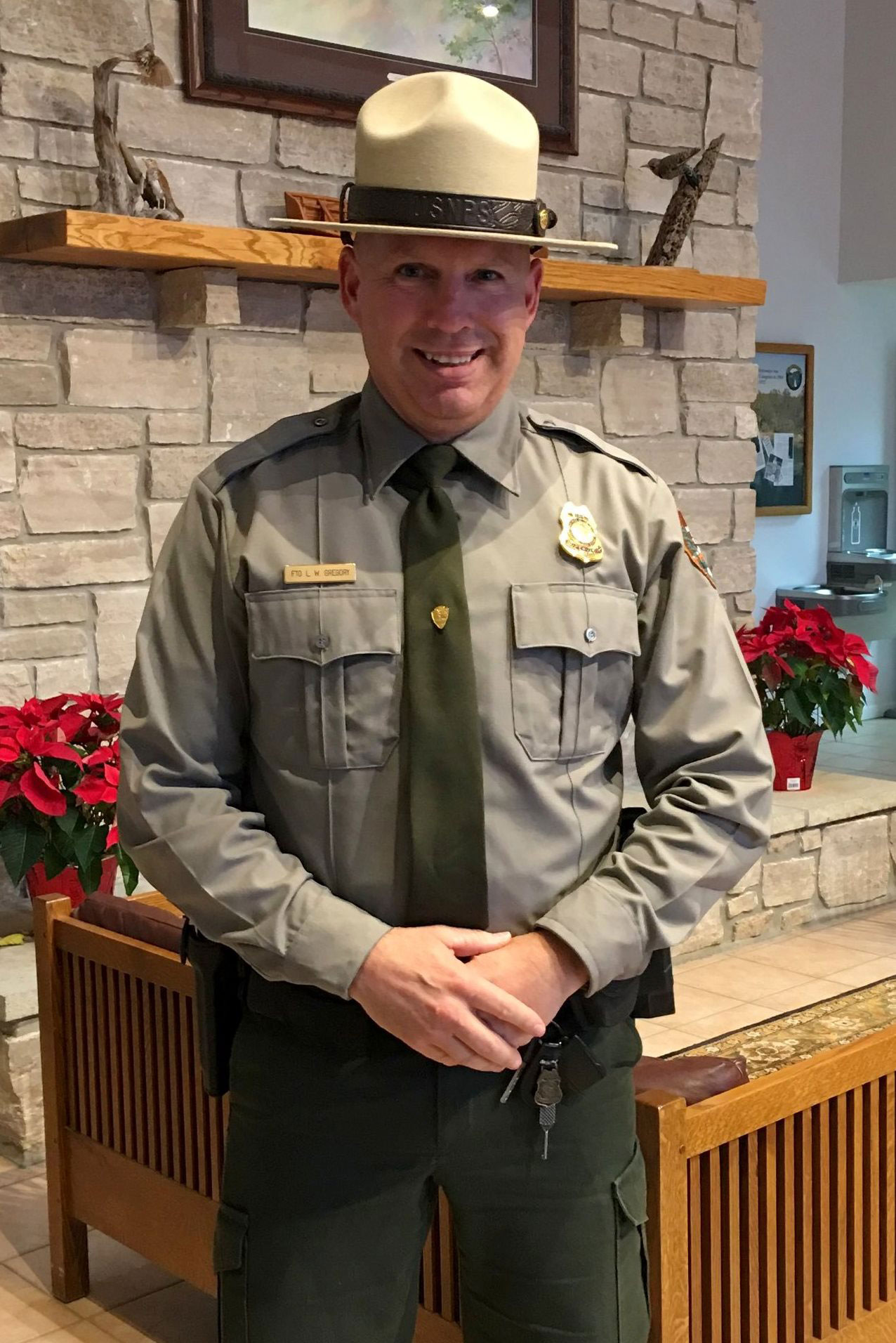 News Release Date:
January 11, 2018
Contact: Dena Matteson, 573-323-4814
VAN BUREN, MO – National Park Ranger Lindel Gregory has been selected as the new Chief Ranger at Ozark National Scenic Riverways, following the retirement of former Chief Ranger Dennis Weiland last year. He begins his new assignment in January.  
Lindel Gregory has served as the Lower Current District Ranger since 2015, overseeing law enforcement and emergency services out of the district ranger station at Big Spring. Lindel has been a National Park Ranger for the past 29 years, with experience as a park ranger and wildland firefighter in a number of national parks and land management areas.  Lindel began his National Park Service (NPS) career in 1988 as a seasonal law enforcement ranger at Ozark Riverways. After several summers as a seasonal ranger, he began work on the wildland fire crew during the winter months and continued to work seasonally in both law enforcement and wildland fire for nine years. After gaining permanent status as a law enforcement ranger for the Bureau of Land Management, Lindel returned to Ozark Riverways in 2000.  
Lindel brings strong leadership skills and extensive experience to his new position. He serves as the Field Training Lead for several national parks in Missouri and Arkansas. In 2017, he served in a four-month temporary assignment as the Chief Ranger at Organ Pipe Cactus National Monument. He was formerly the team leader for the Midwest Region Special Event and Tactical Team, of which he was a member for 17 years. He is also a member of Ozark Riverways' Search and Rescue team, with experience in high-angle and swift water rescue. Lindel is a native of southeast Missouri and grew up hunting, fishing and floating the Current River. He now lives on a small farm in Carter County with his wife and three daughters. 
For more information, visit the park's Facebook page, the park's website at www.nps.gov/ozar or phone (573)323-4236.
Ozark National Scenic Riverways preserves the free-flowing Current and Jacks Fork Rivers, the surrounding resources, and the unique cultural heritage of the Ozark people.
-NPS-