Date:
August 22, 2014
Contact:
Faye Walmsley
, 573-323-4844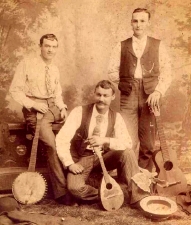 VAN BUREN, MO: Celebrate the park's 50th Anniversary by attending any of the three FREE events occurring over the Labor Day holiday weekend. "Even though the summer season is coming to the close, it doesn't mean you can't get outdoors and encounter the unique Ozark cultural history and night sky this long weekend," states Superintendent Bill Black.

Experience Ozark's musical heritage at Big Spring Friday, August 29th beginning at 7:00 pm. The Depression Era Cabin will reverberate with bluegrass music played by local talent based out of Poplar Bluff, Dexter, and Naylor, Missouri. Bring your lawn chairs and blankets for a night of musical entertainment you'll sure to remember.

Join the Ozark Skies Astronomy Club at Alley Spring to see stars and constellations up close and personal using high magnification telescopes.
Explore the Ozark skies without the hindrance of urban lights. Visitors are welcome to bring their own telescopes or binoculars as well. Meet at the open grassy area near the Alley Spring Pavilion at 8:00 p.m. on Friday, August 29th.

On Saturday, August 30th at 7:00 p.m., The Current River Bluegrass Band will be entertaining park visitors with their traditional music at the Pulltite Campground Amphitheater. From Timber, Missouri, the musicians have been entertaining at events and festivals for many years. Band members include Roger Smith on the banjo, the mandolin player is Bill Bryant, Jack Ficker performs on bass, Roy Light on the dobro, and Dave Light plays the guitar. Remember to bring lawn chairs and blankets to the concert.