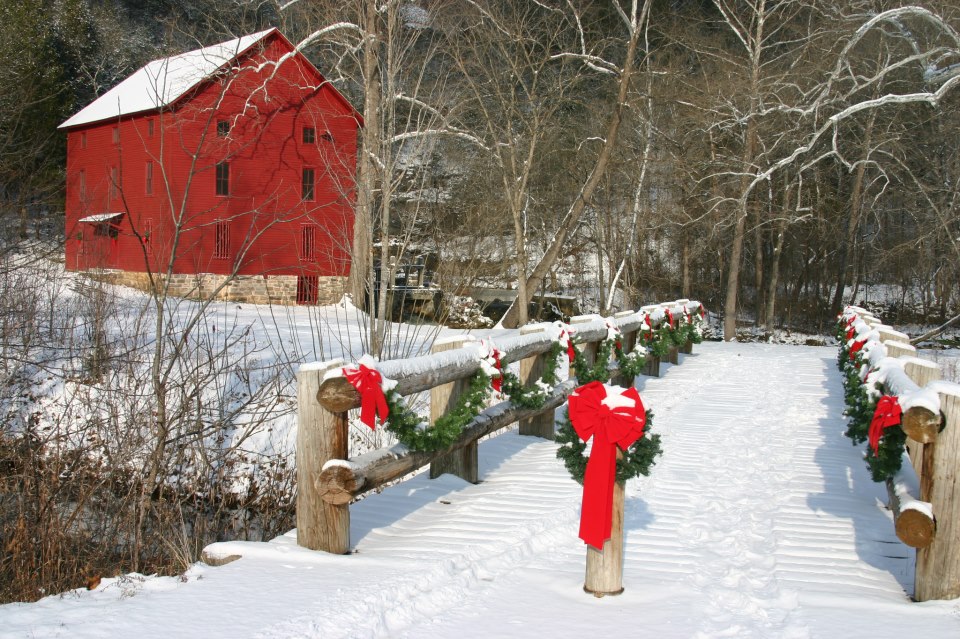 News Release Date:
November 30, 2017
Contact: Dena Matteson, 573-323-4814
VAN BUREN, MO: Memories of cookies and cider, sled rides, homemade gifts and ornaments, and warm gatherings of friends and family are all part of the spirit of Christmas in the Ozarks. Ozark National Scenic Riverways will celebrate the holiday season with special open house events at Van Buren, Eminence and Akers in December.  
A Christmas Open House will be held at our Van Buren Visitor Center on Saturday, December 9, from 10 a.m. to 4:30 p.m. We are turning back the clock to a simpler time, decorating our official park Christmas tree with traditional, old fashioned Ozark ornaments made by the Van Buren 3rd grade students. Handwritten stories about the students' favorite Ozark Christmas traditions will also be on display for visitors to enjoy. Stop by to savor hot cocoa and cookies with plenty of holiday cheer, and join in the first "Van Buren Cookie Crawl." Thirty-two local businesses will provide cookies and refreshments throughout the day. Cookie Crawl cards can be picked up at any participating location and, once completed, can be dropped off at the Visitor Center for a chance to win a $500 gift card sponsored by the Van Buren Business Development Group. Drawing will be held at the Carter County Courthouse following the crowning of Miss Merry Christmas. After the Cookie Crawl, join the community for the Van Buren Christmas parade at 6 p.m. The Visitor Center is located at 404 Watercress Drive in Van Buren. For more information please contact Ranger Cathy Runge at 573-323-4806 or e-mail us. 
An Ozark Christmas Celebration will take place at Alley Spring on Saturday, December 9, from 10 a.m. to 2 p.m. The historic Alley Mill, Storys Creek School and General Store will all be decorated in the holiday fashion. Alley Mill will be open during the event and will feature Christmas trees adorned with handmade ornaments created by the 4th grade classes from Winona, Eminence and Summersville. Take home the memory by creating your own unique traditional tree ornament or by taking a family portrait at our Christmas photo station. Bring the family and partake in holiday refreshments, hot beverages and hear traditional Christmas music. Ole Saint Nick himself might even stop by for a cookie or two and join in the festivities. Alley Spring is located six miles west of Eminence, Missouri, on State Route 106. For more information please contact Ranger Josh Chilton at 573-226-3945 or e-mail us.
An Akers Holiday Celebration will be held at the Mt Zion Church on Sunday, December 10, from 2 to 4 p.m. Music will be provided and people with a connection to the Akers community will have an opportunity to share holiday stories from long ago.  Items for a special display about the Akers Community will be provided by the Shannon County Museum. Those attending are encouraged to bring a special ornament and a memory (picture or story) to share. Bring your favorite holiday treat and enjoy refreshments, music and a short program about past holidays along the Current River.  Mt. Zion Church is located approximately one-half mile north of Akers Ferry on State Route K in northern Shannon County. For more information, please contact Ranger Dave Tobey at 573-323-8093 or e-mail us. 
These free events are sponsored in part by the park's cooperating association, Eastern National. Our Eastern National bookstores will be open to offer holiday gift ideas for visitors looking for special Ozark gifts.
Ozark National Scenic Riverways preserves the free-flowing Current and Jacks Fork Rivers, the surrounding natural resources, and the unique cultural heritage of the Ozark people. For more information, call (573)323-4236 or visit the park's Facebook page, or website at www.nps.gov/ozar.
 
About the National Park Service. More than 20,000 National Park Service employees care for America's 417 national parks and work with communities across the nation to help preserve local history and create close-to-home recreational opportunities. Visit us at: www.nps.gov, on Facebook: www.facebook.com/nationalparkservice, Twitter: www.twitter.com/natlparkservice, and YouTube: www.youtube.com/nationalparkservice.
-NPS-