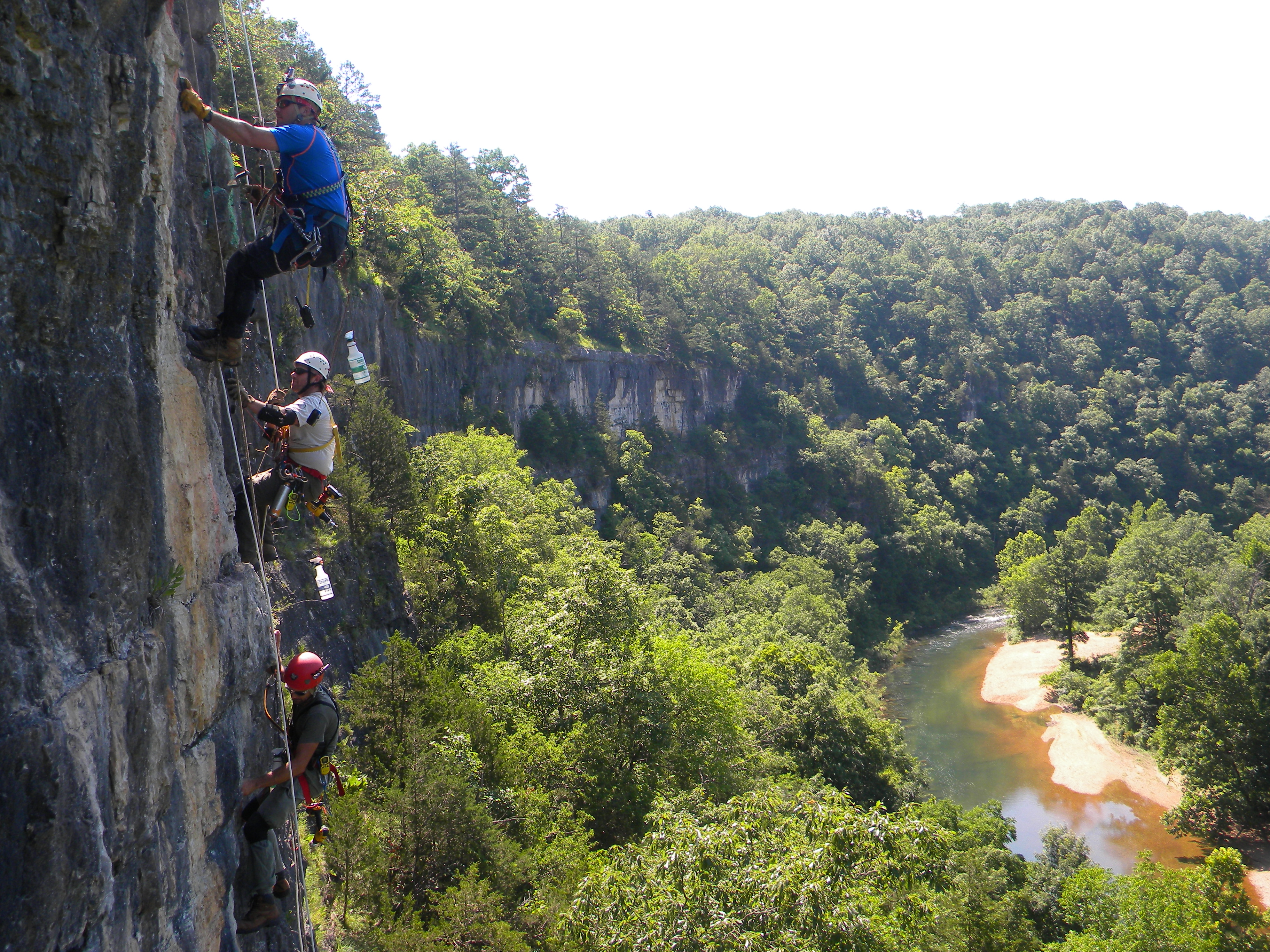 News Release Date:
July 1, 2015
Contact: Dena Matteson, 573-323-8028
VAN BUREN, MO–The Cave Research Foundation successfully completed the removal of spray painted graffiti from the face of Chalk Bluff on June 29.Chalk Bluff, a scenic cliff that rises approximately 120 feet above the Jacks Fork River, is a well-known landmark within Ozark National Scenic Riverways.
Three highly trained and skilled members from the Cave Research Foundation rappelled down Chalk Bluff to reach the graffiti, which spanned 12 feet by 24 feet across.The group spent two days suspended from the bluff, carefully removing the paint from the stone surface using water, vinegar, and wire brushes.
The vandalism to Chalk Bluff occurred in late April.On June 11, Murray Anderson Jr., of Mountain View, Missouri, pleaded guilty to one count of vandalism in the U. S. District Court in Cape Girardeau.Anderson Jr. paid $4,097.96 in fines and restitution for the damages.Restitution was awarded to the L-A-D Foundation, which owns Chalk Bluff and funded the graffiti removal project.
Several local land management agencies have recently experienced a spike in this type of vandalism of natural and cultural landmarks.The National Park Service appreciates the support of the public in reporting these incidents and helping to protect the scenic treasures of our area.Information about vandalism in Ozark National Scenic Riverways can be reported by calling the Arrowhead Regional Dispatch Center at 844-460-3604.
For more information, phone (573) 323-4236 between 8:00 a.m. and 4:30 p.m., or visit the park's website at www.nps.gov/ozar. Ozark National Scenic Riverways preserves the free-flowing Current and Jacks Fork Rivers, the surrounding natural resources, and the unique cultural heritage of the Ozark people.