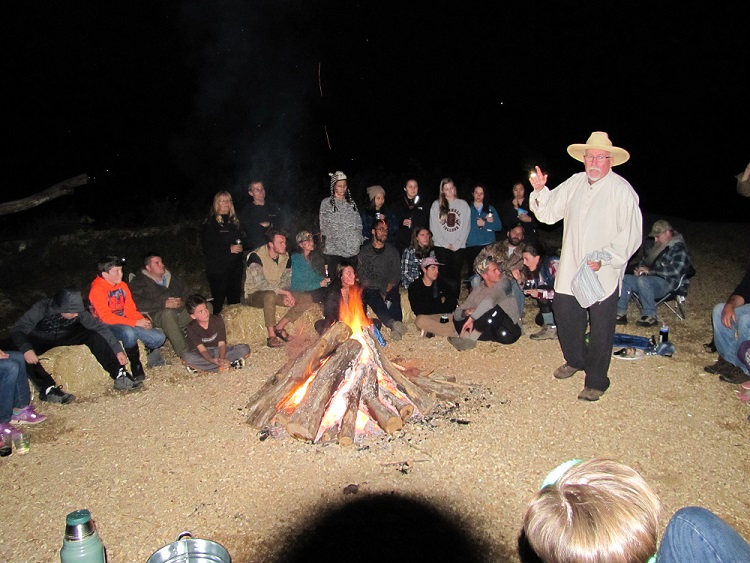 News Release Date:
October 10, 2017
Contact: Dave Tobey, 573-323-8093
Contact: Dena Matteson, 573-323-4814
EMINENCE, MO:  On Saturday, October 21, Ozark National Scenic Riverways will host an instructional gigging program at Round Spring in partnership with the Missouri Department of Conservation (MDC). The "Gigs and Ghosts" program will begin at 5:00 p.m.on the lower landing at Round Spring. National Park Service rangers and MDC staff invite everyone to gather around a gravel bar campfire for a program on the history of gigging, an overview of modern-day techniques and safety, as well as storytelling around the fire. The program will include an opportunity to gig fish on the Current River under the guidance of MDC Conservation Agents. All are welcome to attend this free program, but participants who want to try their hand at gigging should contact Twin Pines Conservation Education Center at 573-325-1381 to reserve a spot and receive additional information, or can sign up on MDC's Event Management System at www.mdc.mo.gov.  
As darkness falls, rangers from Ozark National Scenic Riverways and members of the community will host presentations around the campfire from several "Current River Ghosts", including early Ozarks explorer Henry Schoolcraft. No gravel bar gigging session would be complete without a sucker fry. Specialists from Twin Pines Conservation Education Center will be on hand to provide a sample of this traditional Ozark delicacy to visitors.  
Fish gigging is a time honored tradition on the Current River.  During evenings in the fall and early winter, it's common to see boats with generators and electric lights on the river. Gigging has grown from a necessity to put food on the table to a recreational sporting activity. What was once a means of survival in the Ozarks, today has become more of an opportunity for socializing and getting back to primitive outdoor skills. Whatever the motivation behind the art of gigging, it brings friends and families together to enjoy each other, good food and the beautiful Ozark rivers.  
Participants should dress warmly, and come prepared for enjoying the river and gravel bar after dark. Flashlights and folding lawn chairs are recommended. All giggers should possess a valid Missouri fishing license. 
For more information about the Gigs and Ghosts program, contact Park Ranger Dave Tobey as 573-323-8093 ore-mail us, visit the parks facebook page or website at www.nps.gov/ozar.  
Ozark National Scenic Riverways preserves the free-flowing Current and Jacks Fork Rivers, the surrounding resources, and the unique cultural heritage of the Ozark people.  
-NPS-