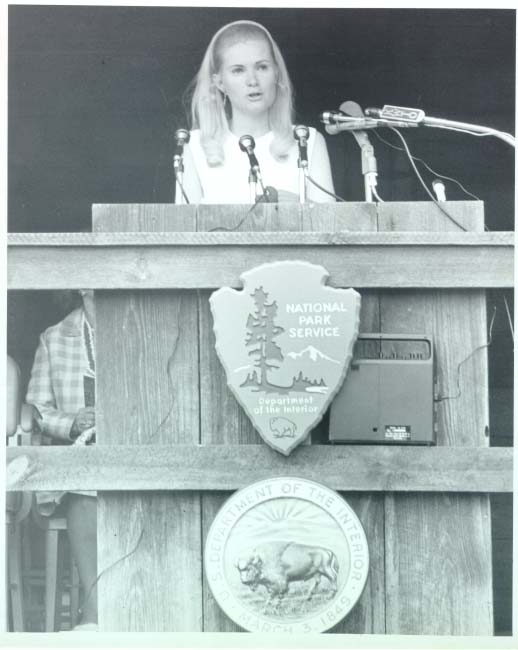 News Release Date:
August 15, 2014
Contact: Faye Walmsley, 573-323-4844
VAN BUREN, MO:  On August 27th, 1964, President Lyndon B. Johnson signed the act establishing Ozark National Scenic Riverways as a unit of the National Park Service. "Over the last 50 years, there has been a world of change in our lives. But one thing has stayed the same. People are still enjoying the Current and Jacks Fork Rivers as was envisioned by those who set aside the land and water for all," said Superintendent Bill Black.  A FREE event recognizing the 50th Anniversary of the Act creating the park will be held at the Depression Era Cabin at Big Spring on Saturday, August 23rd beginning at 6:00 pm.
Festivities will begin with a welcome from Superintendent Black and recognition of invited guests. Donald Stevens, National Park Service Historian, from the Midwest Regional Office in Omaha and author of the A Homeland and A Hinterland, will speak on the historical background of the park's establishment.  Don will be available after the event to sign any personal copies of A Homeland and A Hinterland that attendees bring with them.
The historic film Forever Yours will be premiered. This archival 16 mm film has just been digitized and color corrected for preservation by Henninger Media Services (www.henningermediaservices.com) in Arlington, Virginia.  Produced by the National Park Service in the early 1960s, the movie features Leonard Hall and his wife Virginia floating down the Current River while Mr. Hall narrates the natural features and wildlife along the way.  The film will be available electronically for public viewing from our park's website or Facebook page after the event.
An Ozark event would not be complete without music. From Poplar Bluff, Missouri, Alex Riffle and the Stiff Riffs will be performing their musical blend of bluegrass and folk music. Band members include Larry Light strumming on the guitar and contributing vocals; Bobby Lewis sawing away on the fiddle; Alex Riffle picking the banjo and on vocals; Doug Kennedy playing bass and providing vocals; Bill Watkins on guitar and vocals;and Steve Walsh playing the mandolin and performing vocals.
All the activities are certain to make your evening under the stars at Big Spring a special night to remember. Bring a lawn chair or blanket for the entertainment.
For information on Ozark National Scenic Riverways, visit the park Facebook page, the park website at www.nps.gov/ozar or phone (573)323-4236. 
Ozark National Scenic Riverways preserves the free-flowing Current and Jacks Fork Rivers, the surrounding resources, and the unique cultural heritage of the Ozark people.