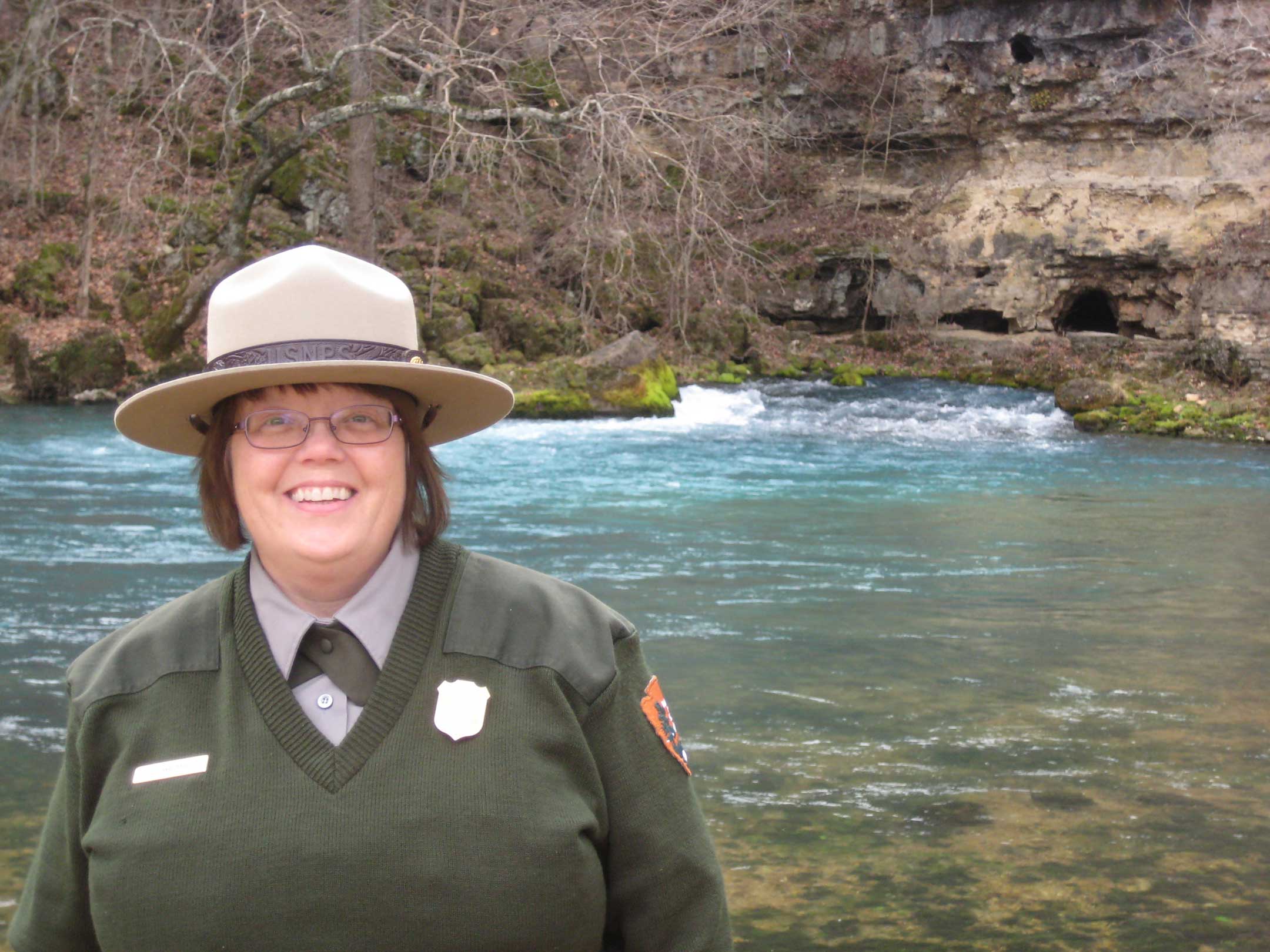 News Release Date:
December 18, 2014
Contact: Dena Matteson, 573-323-8028
VAN BUREN, MO: Faye Walmsley will be retiring at the end of December after 31 years of service in the federal government, twenty-nine of those with the National Park Service. Faye has been the Chief of Interpretation at Ozark National Scenic Riverways since 2010, overseeing the park's visitor programs, special events, interpretive media, and public outreach.
Faye's passion for parks and history came from her father, as her family took two weeks every summer to travel, camp, hike, sightsee, and learn about the nation's heritage and landscapes. Her earliest memory of a national park visit was to Yellowstone at age 5, where she first saw bears. Her dad's love of Civil War history included trips to battlefields and a realization, as a 13-year-old, that his love of history passed to her as well.
Faye never planned to be a Park Ranger. Her goal in college was to teach middle school or high school social studies, but social studies teaching jobs were hard to find in the early 1980's for someone without coaching credentials. So Faye set her sights on trying to get a National Park Service job. Her first federal job was as a U.S. Customs Inspector at Chicago O'Hare Airport during the summer of 1984, where she processed many athletes and teams on their way to the Los Angeles Olympics. Next, she took a permanent job with the Boxelder Civilian Conservation Center on the Black Hills National Forest in South Dakota. During her year and half at Boxelder, she volunteered every Thursday at Mount Rushmore National Memorial gaining experience operating the visitor center, conducting informal interpretation, and presenting talks. The love of interpretation was born.
The first national park offering Faye a field interpreter position was Chamizal National Memorial in Texas. Mount Rushmore hired her soon after, making her the first permanent female Park Ranger hired there. Other parks followed: Operations Supervisor at Mammoth Cave National Park in Kentucky, District Interpreter at C &O Canal National Historical Park in Maryland and Gulf Islands National Seashore in Mississippi, and Chief of Interpretation at Martin Luther King, Jr. National Historic Site in downtown Atlanta, Georgia, and finally, Ozark National Scenic Riverways.
Faye says, "I'll miss the passion and dedication of my NPS co-workers toward the park service mission of 'preserving the resources for future generations'. I'll especially miss the awe I witnessed in children and adult visitors when they personally connected to the resource. It was amazing to hear the dialogue among group members after tours of Dr. King's birth home. Witnessing those interactions made me realize that even with all the paperwork and planning frustrations, the mission was being passed on and differences made."
Career milestones included planning new Mount Rushmore facilities, the final dedication of Mount Rushmore by President George H. W. Bush, developing the new William M. Colmer Visitor Center exhibits and waysides in Mississippi after Hurricane Katrina, dedicating the new Charles F. Mercer canal boat at C &O Canal, election night of President Obama and rehabilitating the Visitor Center exhibits at Martin Luther King, Jr. National Historic Site, and managing the Ozark National Scenic Riverways 50th Anniversary events.
Retirement plans include continuing historic preservation work on her 1923 Craftsman home in Poplar Bluff, traveling, antiquing, crafting, volunteering, working, and spending quality time with family and friends. A big trip is planned for Yellowstone in early June.
Faye will be hanging up her Park Ranger hat and cleaning out her office on December 19. A retirement celebration that included coworkers and community members was held in her honor on December 16.
For more information, visit the park's Facebook page, follow us on Twitter, visit the park website at www.nps.gov/ozar, or phone (573) 323-4236.
Ozark National Scenic Riverways preserves the free-flowing Current and Jacks Fork Rivers, the surrounding resources, and the unique cultural heritage of the Ozark people.