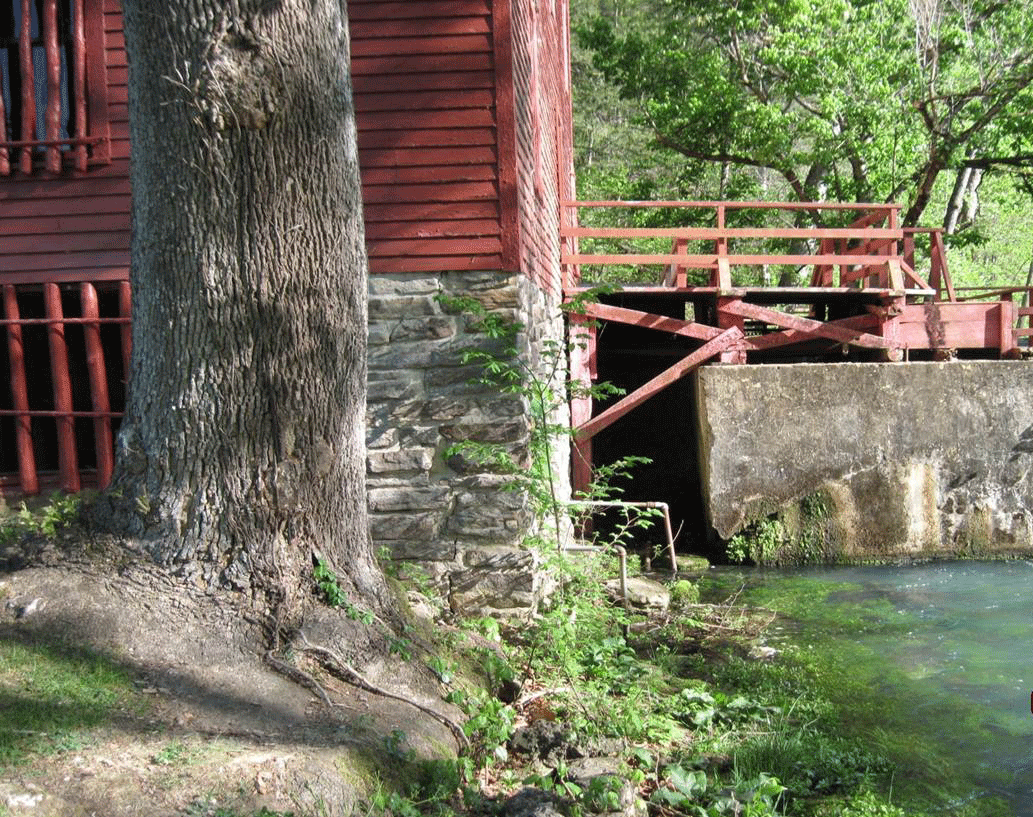 News Release Date:
April 11, 2014
Contact: Faye Walmsley, 573-323-4844
Eminence MO: Ozark National Scenic Riverways sought advice from the Missouri Department of Conservation (MDC) and National Park Service's Olmsted Center for Landscape Preservation about the sycamore tree against the Alley Mill and its impacts on the foundation. The feedback received determined the park's decision to remove the tree for the preservation of the mill.
MDC determined the sycamore is 105 feet tall with a diameter of 36 feet at the base. The tree recovered nicely from past pruning and has grown around a lightning rod grounding cable. It was found to be healthy even with its exposed roots and has no evidence of insect damage. Boring into the tree did not determine the sycamore's age through these trees can live up to 500 years with 200 years being most common. The tree's root system extends into and underneath the mill's foundation and turbine pit cracking the structures. The mill's foundation was extensively repaired in 1992 and the tree re-damaged the foundation in the same area of the repair. Photographs show the damage.
The tree is an integral part of the Alley Mill landscape establishing the peaceful ambiance popular with visitors, photographers, painters, and wedding guests. The Olmsted Center for Landscape Preservation recommended informing the public early and frequently on the tree's impacts and eventual removal. Ozark National Scenic Riverways will continue to keep the public informed on the tree's status and the preservation work going on at Alley Mill now and up through August.
Ozark National Scenic Riverways preserves the free-flowing Current and Jacks Fork Rivers, the surrounding natural resources, and the unique cultural heritage of the Ozark people.