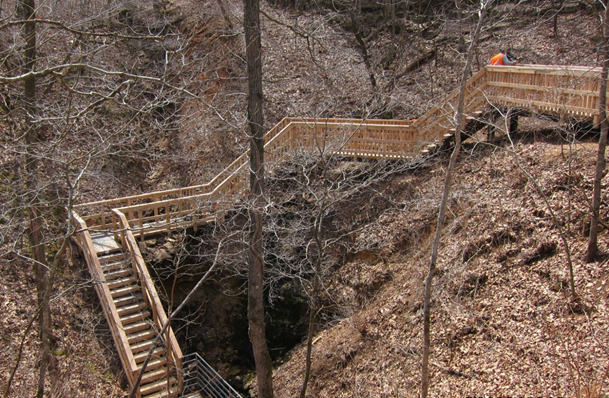 News Release Date:
April 16, 2013
Contact: Faye Walmsley, 573-323-4844
EMINENCE MO: Ozark National Scenic Riverways announces the reopening of the staircase into Devils Well for visitor viewing."The repair of the stairwell is complete and visitors are able to descend into the Devil Wells for a firsthand look at this geological wonder," said Superintendent Bill Black.
Little over a year ago, it was discovered that the Devils Well staircase was structurally unsound and was closed for visitor safety.Efforts to address the safety concerns were finished last week with a new stairwell, handrails, and decking."Our dedicated maintenance crew worked hard to complete this project ahead of schedule before the busy Memorial Day weekend." states Black.
Ozark National Scenic Riverways preserves the free-flowing Current and Jacks Fork Rivers, the surrounding resources, and the unique cultural heritage of the Ozark people.