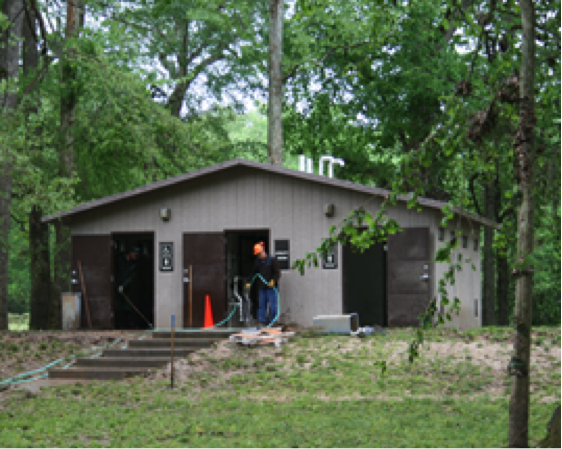 News Release Date:
May 7, 2017 Midwest Region Incident Management Team News Release
Release date: May 7, 2017
National Park Service Contact: Alexandra Picavet,
e-mail us
,
402-960-0688
National Park Service Sends Incident Management Team to Assist Ozark National Scenic Riverways Respond to Epic Flood Event
One week after widespread flooding caused unprecedented damage in Ozark National Scenic Riverways, the park remains closed. It is unknown at this time when areas will be reopened to visitors. Currently the National Park Service Midwest Region Incident Management Team (IMT) and more than 120 National Park Service (NPS) employees are working every day to assess conditions, plan for next steps, stabilize facilities, and protect resources in the park.
The IMT was brought in by the park to help manage the recovery operations.  "The Incident Command System is the best way to pool and focus our resources and employees on the park's priorities and do this work in the safest and most efficient way possible," Incident Commander Dan Morford said. "In addition to the park staff, more than 40 NPS employees have come from around the country to assist."
"Our staff, like many in the communities, have been affected in several ways," Deputy Superintendent Russ Runge remarked. "Many of us live in some of the hardest hit communities; we are working our full shifts to help clean up the park and to get back into the business of welcoming visitors, and then going home to work in our communities too."
Initial recovery efforts include assessing all areas and facilities to address immediate health and safety concerns, and to manage compromised structures.  There are some areas of the park the NPS has not yet been able to access.
Status report:
General:
The entire park is closed to the public. This closure includes the river, all facilities, campgrounds, and river access points located within the park.

All park water systems, electrical systems, and most roads and trails have been compromised.

Sand, mud, and gravel along with heavy debris has been deposited into campgrounds, some facilities, onto roads, parking areas, and trails.
Communications/ Information:
Currently, phone and internet service is inoperable parkwide. For public information and status updates information desks will be staffed at Round Spring Contact Station, Alley Spring General Store, and Park Headquarters in Van Buren, daily from 8:30 a.m. to 5:00 p.m. Information will be posted on the park website at 
www.nps.gov/ozar
, on the 
park Facebook page
as possible. 
Condition of rivers:
The rivers are unsafe for all use. The NPS will be assessing the rivers in the coming week to get a better idea of what it will take to open them back up for use.

The water level is still above average throughout the park and 4' above flood stage at Van Buren.

The rivers are cloudy and have many hidden submerged structures, trees, and vehicles.

There remain contaminants, natural and manmade debris in and along the rivers.
 
Inactive power lines are still hanging down and in some cases are submerged in the water.
Big Spring:
The spring integrity is intact. Water is cloudy and flowing at high levels.

Big Spring Bridge is closed. It was completely submerged and must be evaluated by a civil engineer. There is significant damage to Highway 103. There is still water on Peavine Road.

Every restroom in the Big Spring area was significantly damaged.

Big Spring Lodge is being cleaned and dried out. Standing water has been pumped water out and the NPS is still removing mud from the basement. The water level was 8' high on the main floor of the lodge during the peak of the flood.
Round Spring:
The spring integrity is intact. Water is cloudy and flowing at high levels.

The parking lot and boat ramp are still covered in water.
Alley Spring:
The spring integrity is intact. Water is cloudy and flowing at high levels. 

Storys Creek School had four-feet of water in it, which has not happened in previous floods.
The school is drying out now and the condition is being evaluated by a skilled historic architect. A team of conservators will help clean and repair damage.

Alley Mill had a foot of water on the main floor of the mill. Water has been pumped out of the basement, and the building is drying. Damage is being evaluated by a skilled historic architect and a team of conservators will help clean and repair damage in an effort to have Alley Mill open by the June 5 launch of the Ozark Riverways quarter.
Akers Ferry:
The river is still too high to assess the conditions. The ferry will not be operable until it has been evaluated and any repair work is done.
At the height of the flood, the Current and Jacks Fork Rivers crested almost 10' above the historic record, causing unprecedented damage to park facilities and surrounding communities.  "This is a changing situation," Superintendent Larry Johnson said. "The rivers are dictating our response and outcomes. Damage assessment will be a big task. We've never seen this level of destruction in this park. Conditions are being re-assessed every day. The river is just not a safe place right now."
As conditions change information will be posted on the park website at 
www.nps.gov/ozar
, on the 
park Facebook page
, and at the visitor contact stations. 
www.nps.gov
The Midwest Region encompasses 61 park areas in 13 states (Nebraska, Kansas, Iowa, Missouri, Minnesota, Wisconsin, Michigan, Illinois, Indiana, Ohio, Arkansas, and North and South Dakota), and has been headquartered in Omaha since the mid-1930s.