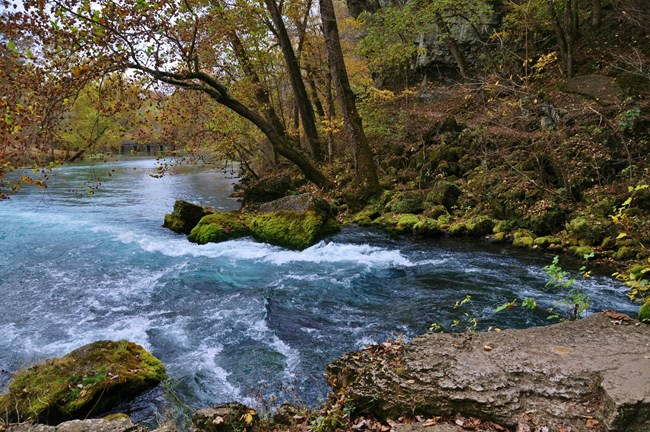 Ozark National Scenic Riverways is home to some of the largest freshwater springs* in the country. They include:
*Several are "first magnitude" springs which means that they have over 65 million gallons of water daily flowing from them.
---
Ozark Springs
Jewels of the Ozarks
by Mike Gossett
Ozark Riverways is home to outstanding springs that rank among the world's largest. The larger springs deliver billions of gallons of clear, cold water to the Current and Jacks Fork River every week. Thousands of people visit the Ozarks every year just to look at these large springs. Whether it is the beautiful scene of a giant spring flowing from the base of a towering bluff or the cool air around the spring on a hot summer day, people have always been attracted to these "Jewels of the Ozarks". If you listen quietly you will discover that each spring has a unique sound ranging from a loud roar to a soft splashing.
Springs are unique ecosystems. Their stable year-round temperatures and distinctive water chemistry provide a unique environment for plants and animals not commonly found in the river. Watercress and other aquatic plants play a key role in the spring ecosystem by providing organic matter used by other plants and animals and habitat for aquatic insects.

At least 38 animal species are found only in Ozark springs and subterranean waters. Several aquatic invertebrate species are found in as few as two Ozark springs including springs within Ozark Riverways.
Springs are small, delicate ecosystems, more sensitive to disturbance than the river. Trampling the spring's delicate vegetation to fish, wade and swim would damage the beauty of the springs. Dislodging aquatic plants in the springs could also alter this sensitive ecosystem. This is why we prohibit wading, swimming and fishing in the springs and spring branches. Please help us in preserving these outstanding springs. (laws protecting Ozark springs)
Frequently Asked Questions:
Just how big are they?
Spring Name

Location

Flow (Gallons per day)

Alley Spring

6 miles west of Eminence

81 million

Blue Spring

14 miles west of Ellington
14 miles east of Eminence

93 million

Big Spring

4 miles south of Van Buren

286 million

Round Spring

15 miles north of Eminence

26 million

Welch Spring

2 miles north of Akers

75 million

Greer Spring

12 miles south of Winona

214 million

Montauk Springs

Montauk State Park

53 million
Why is the water so blue?
Spring water is actively dissolving away dolomite as it moves through the earth. Springs are actually excavating new caves through this process. This dissolved limestone, along with the influence of the spring's depth and the blue of the sky, impart the blue color. Unique local conditions may give each spring its own tint. Rainy conditions wash silt into the water and may make springs appear milky or cloudy, or even brown.
Is the water safe to drink?
Although we all know the cliche "pure as spring water," water from Ozark springs is generally not much cleaner than water from surface streams. It passes through huge tunnels underground, not the tiny porous spaces in the rock that cleanses spring waters in some other areas.