For Kids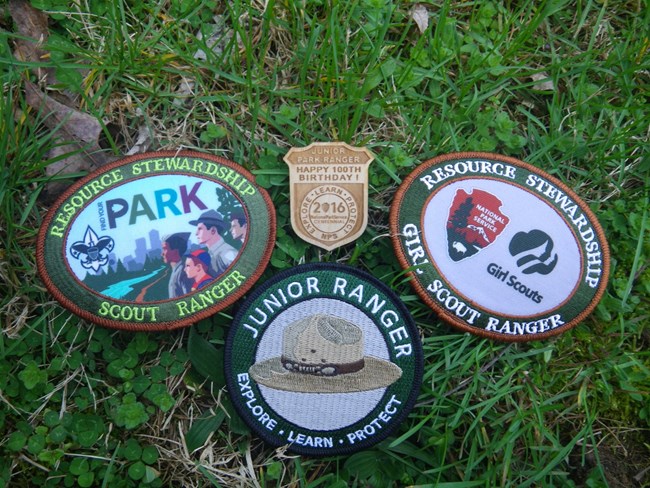 Activities For Kids
The park offers a variety of
activities
in the summer months, from Memorial Day through Labor Day.
These include evening slide shows every Friday and Saturday at Big Spring and Alley Spring Campgrounds.
Other activities, including nature hikes and special events occur each summer. These change every year, so check park bulletin boards once you arrive for latest schedules.
Junior Ranger Program
Pick up a Junior Ranger book at any Ranger Station, Alley Mill, or at any campground. Do the activities in the booklet and you'll receive a handsome Junior Ranger badge.
River Exploration Kits Explore the river (or the woods) with our free River Exploration Kits! These contain nets, bug containers, field guides, small aquariums, and other stuff to help you investigate the world around you. They are available at every Visitor Center, please return them when you are ready to go home.
Teachers should check out our Environmental Education Program by clicking here. Special programs are available for school groups. Please call for details: (573) 323-4814.
Open Outdoors for kids is an exciting new program for 4th grade students, which enables them to receive a fee-free access pass to all national parks in the country. Students can complete a simple online activity, or do a lesson with their teacher to earn their Every Kid in a Park pass. Learn more by clicking here.
Go outside! But if you can't get outside today, try these:
ONLINE GAMES
The Water Festival
(from Project Wet) A fun activity for younger kids to learn the importance of water to all of us.
Water Games from National Oceanographic and Atmospheric Admin.
---
Kid Friendly Nature Websites:
Archeology for Kids
I"f you grew up in the country, chances are you have fond memories of lazy days down by a river, creek or pond." - (Darlene Donaldson, "The River" in Country Magazine)


Last updated: March 18, 2020