Ranger Programs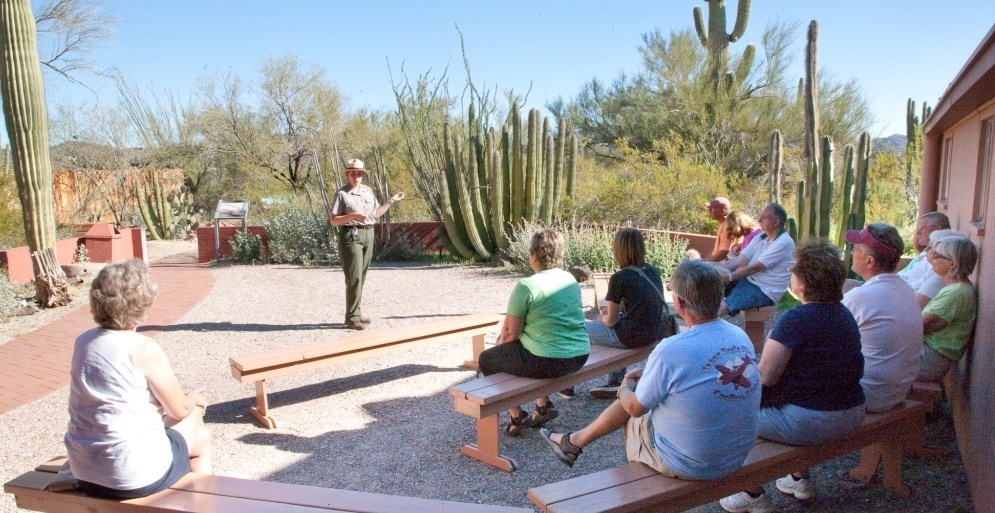 Have you ever wondered why Organ Pipe and Saguaro cacti do not grow in all the American deserts? How is the Sonoran Desert different from the others anyway? Join us one of our free interpretive programs as we share the stories about your National Monument.
Interpretive programs are offered January through March. Program schedule is printed in the current park newspaper and posted at bulletin boards around the park. Programs may be cancelled due to inclement weather and staff availability. Due to Arizona car seat law, childern under 12 or who are less than 4'9" in height are not able to participate in van tours.
Please check with the Kris Eggle Visitor Center (520)-387-6849 ext 7302 for more information.
Ajo Mountain Van Tours: Monday, Wednesday, and Friday
Take the opportunity to spend 3 hours with a ranger on a drive through one of the monument's most beautiful areas. Space is limited to 10 people per day. This program requires advanced reservation and a pre-payment of $5 per rider (payments must be made and boarding passes picked up at the visitor center no later than 8:30am on day of tour). Be sure to call the Kris Eggle Visitor Center a week in advance to reserve your space for a 9:00 am departure. Boarding pass reqired to board the van.
Patio Talks: Daily
These 20 minute presentations take place on the back patio of the Kris Eggle Visitor Center at 11:00 am, 2:00 pm, and 3:30 pm. Subjects and presenters vary.
Evening Programs:
End your evening with a 45-60 minute presentation at the Twin Peaks Campground amphitheater at 7:00 pm. Presentations cover a variety of topics, including natural and cultural history. Check bulletin boards for topics. Start time may vary in March due to longer days; check the program schedule for time changes. No aphitheater programs on nights when Star Parties or Moonlight Hikes are scheduled.
Explore the Desert After Dark:
Organ Pipe Cactus comes alive after dark. Join park rangers for moonlight hikes and stargazing programs throughout the season. Check the visitor center or bulletin boards for dates and times.
Special Programs:
Special educational and recreational programs will be offered to throughout the season. Check with the visitor center for more information. All programs take place at the Visitor Center.
Science Lecture Series
Border Patrol 101



Last updated: January 2, 2020