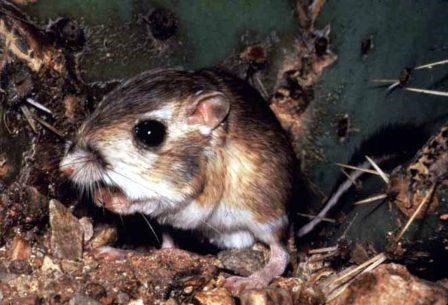 Despite its name and mouse-like appearance, the Kangaroo rat is neither a rat or a mouse. The Kangaroo rat is a member of the heteromyidae family, with its closest relative being the pocket gopher.
Kangaroo rats have long tails and larger hind feet with only four toes. Their eyes are very large, while their ears are incredibly small. Kangaroo Rats are small, weighing up to 4.5 ounces, which is about the weight of granola bar. Their fur is a yellowish-brown with a white belly, while the tail has a noticeable white tip.
Kangaroo rat tend to live in the desert flatlands, creosote flats, and the sandy soils of the desert washes. The rats burrow into the soil to better survive the sometimes harsh desert environment.
Kangaroo rats are mostly seed eaters, eating mostly mesquite beans and grass seeds. Occasionally the Kangaroo rat can be seen eating small insects. Kangaroo rats will forage and collect seeds at night, storing seeds and beans in their cheek pouches. Extra seeds are stored in their burrows where the seeds can absorb up to 30 percent more moisture.