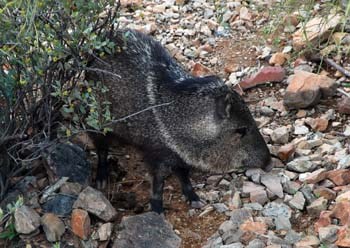 Don't call me a Pig!
Often confused for a wild pig, the collard peccary (Tayassu tajacu) is a completely different species of mammal. More commonly called a javelina, these animals can measure in length from three to four feet, and weigh 44-88 pounds. Unlike wild hogs and pigs, who were introduced to America by European settlers, the javelina is native to the American Southwest.
Sometimes called a "musk hog," the javelina releases a very strong odor when alarmed or excited. Scent glands are present below each eye and on the Javelina's back. These glands are also used to mark territory, which can range from 75 to 700 acres. Javelinas will also mark each other with these scent glands by rubbing against one another. Due to extremely poor vision, the javelina must rely on these scents and their sense of smell to communicate. The smell can be quite strong, and you will usually smell a javelina before you see it.