Humans and the Night Sky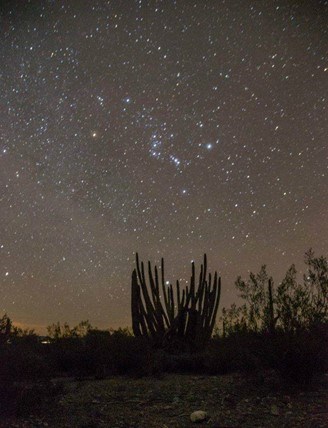 Human History and the Night Sky
Today people find direction, wonder, and awe in the starry skies above Organ Pipe Cactus National Monument. Since the beginning of human cultures, people have gazed at the stars and noticed patterns. Ancient people recognized the shapes between stars that stayed aligned with specific directions and the changing seasons. The stars are not just distant places, but visible elements and tools that have been shared by all peoples on this planet throughout time.
The American Southwest, including Organ Pipe, is famous for clear night skies and unique landscapes that have been used as aids to guide travelers, explorers, traders, and settlers across the land for thousands of years. Ancient peoples, like those that once called Organ Pipe Cactus home, used the night sky to aid them in their farming. The appearance of certain stars in the sky were used to mark the best time to begin planting certain crops, while other stars marked when to prepare for harvesting.
Europeans first arrived in the area in the mid-1500s and used the stars as tools to map their findings. Before instruments like sextants were used to accurately measure the distance between two visible objects — celestial objects were used as directional markers and could even aid in estimating longitude and latitude.
The stars unite people through time and cultures, and are a resource of both natural and cultural value that is being threatened by light pollution. People living in and near urban areas are losing the ability to see the stars due to sky glow, glare, and light trespass. Organ Pipe Cactus is working with the International Dark-Sky Association (IDA) and other partners to better protect and educate visitors about the many values of the night sky. The stars link us as not just one park, one nation, or even as one hemisphere, but as a species that shares the stars as they appear from our planet.
Ranger Programs
During the winter months, we invite you to join our park rangers to explore the wonders of the desert sky through special ranger programs. Check the park newspaper and bulletin boards to find out more about solar-viewing programs, constellation talks, telescope viewing, and night sky events. As staffing permits, rangers and volunteers will be present during the evening in the campground with telescopes available for informal celestial viewing.
To learn more about what you can do to save the night The National Park Service's Natural Sounds and Night Sky Division.
Spot the Station from Organ Pipe Cactus!
Great opportunities to view the International Space Station can be found at Pinkley Peak Picnic Area, Twin Peaks Campground, and Alamo Canyon.
Last updated: June 24, 2018