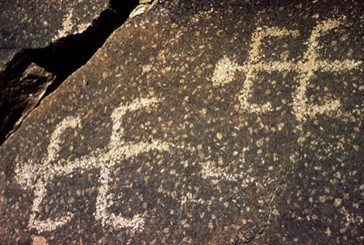 Organ Pipe Cactus: A Complex Human Story
In what is now Organ Pipe Cactus National Monument, archaeological evidence places human beings in this area approximately 1,600 years ago. These people left behind projectile points, seashells, pottery, and rock art. the paths they followed on foot are still carved onto the desert floor. Over the millennia, people moved through here while following impressed trade routes, hunting and gathering, and settling for short periods of time. Once agriculture was introduced in the southwest, people began to establish more permanent settlements and eventually larger villages.
Many archaeological sites can be found within Organ Pipe Cactus. The Hohokam people's culture existed in this area from the first years Common Era (CE). through CE 1450. Considered the greatest of the ancient southwest cultures, the Hohokam achieved remarkable successes during their time, and are today most noted for the creation of extensive irrigation canals fed by the Salt and Gila rivers. Several miles of irrigation canals can still be seen on the desert floor at Organ Pipe Cactus. These waterways supported fields of corn, beans, squash, tobacco, and cotton.