Museum Collection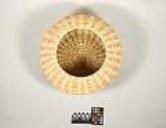 The National Park Service's Western Archeological and Conservation Center in Tuscon, Arizona is home to more than 1,000 artifacts from Organ Pipe Cactus National Monument. Ranging from pieces of pottery, arrowheads, beads and other objects, they tell a story of people living and thriving in the desert for centuries, and serve as a reminder to the people who called the Sonoran Desert home.
Remember, if you find an artifact leave it in place. Do not pick it up. Report your finding to the nearest park ranger. Artifacts are protected under federal law.
The monument's collection can be viewed online through the Western Archeological and Conservation Center's online database.
Last updated: June 24, 2018