Aviation Program Facts

Leadership
John Buehler, Branch Chief
Kristin Swoboda, National Pilot, Fleet UAS Specialist
Nic Strohmeyer, Helicopter Specialist
Ody Anderson, Safety Manager
Bill Kaage, Chief - Division of Fire and Aviation
Mission
The National Park Service (NPS) Aviation Management Program provides leadership at the national, regional and park levels to ensure safe and efficient use of aviation resources.
Administration
The national program is located at the National Interagency Fire Center in Boise, Idaho with other programs under the Division of Fire and Aviation. Regional aviation managers (RAMs) are assigned to offices around the country.
NPS aviation operations make up the most diverse range of aviation missions of any bureau within the Department of the Interior. With approximately 12,000 to 13,000 hours of flight time annually, the bureau utilizes fixed wing, helicopter, and unmanned aircraft systems (UAS) resources in support of a multitude of NPS programs and missions.
These missions include but are not limited to:
Search and rescue
Medical response
Law enforcement
Visitor protection
Natural resource management
Wildlife management
All-hazard operations
Personnel transportation
Wildfire and prescribed fire
Human Resources and Equipment
The national Aviation Management Program facilitates national level policy, direction, and aviation technical support to enhance the safe and efficient use of aviation resources while conducting NPS missions. The NPS aviation team is committed to building a safer, stronger, highly trained, and better equipped aviation program for the future. The program continues to develop strategies to protect natural resources and address all hazard situations that require well-trained personnel.
Aviation activities are coordinated with NPS RAMs, NPS park aviation managers, the NPS National Aviation Advisory Group (NAAG), Department of the Interior, and interagency aviation partners.
For More Information
To learn more about the NPS Aviation Management Program, visit our website.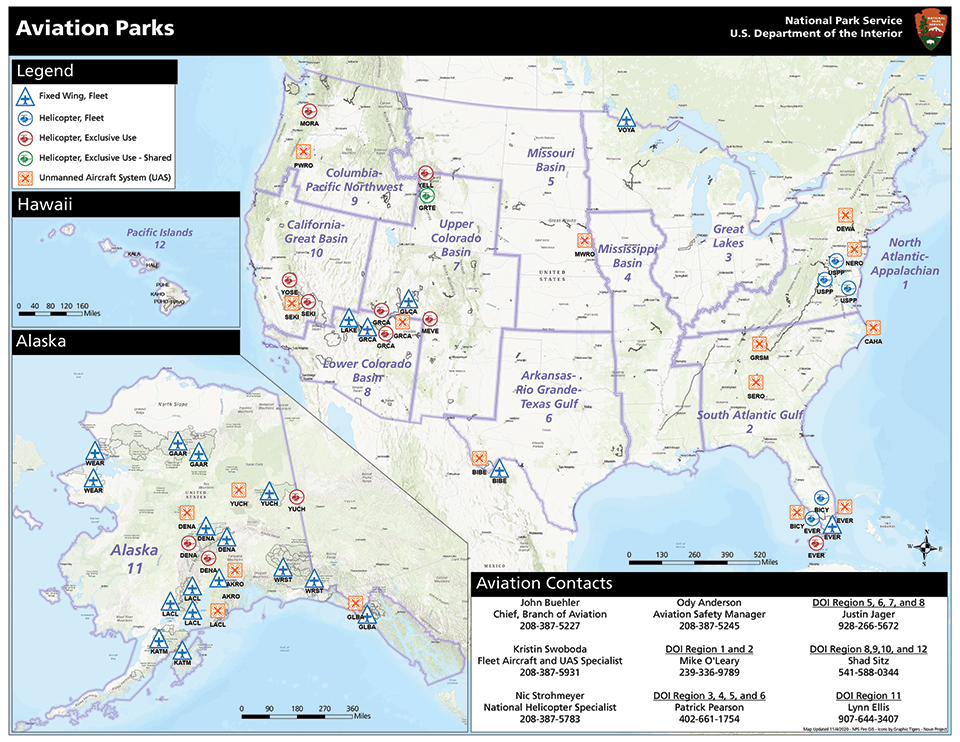 Last updated: December 2, 2020