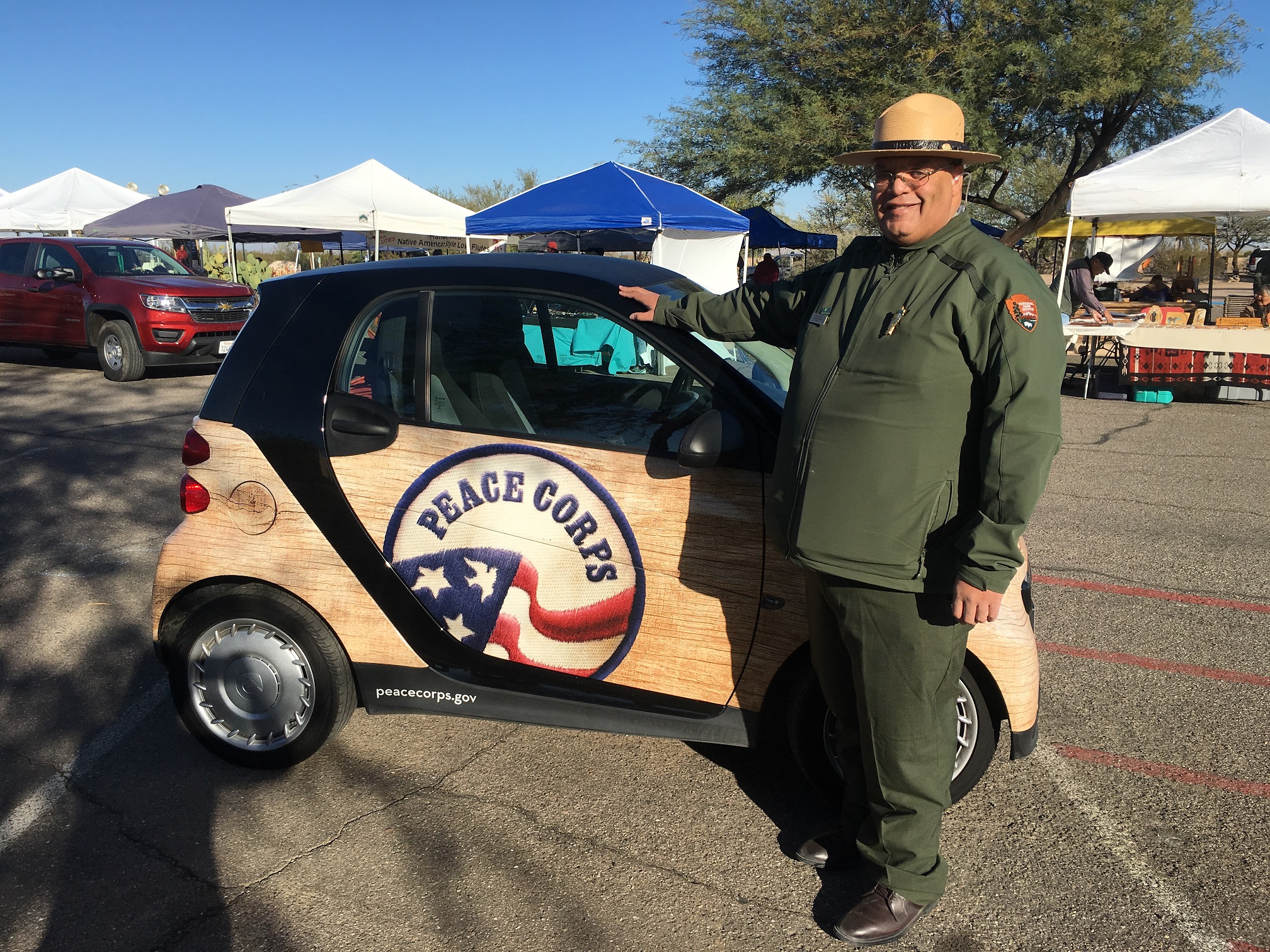 News Release Date: November 22, 2016

Contact: Sharlot Hart, 520-791-6413
Phoenix, AZ
– The National Park Service is welcoming the Peace Car and its driver, Peace Corps recruiter Sophia Ewing, to 12 NPS sites throughout Arizona. The trip celebrates the NPS Centennial and recognizes returned Peace Corps Volunteers (RPCVs) who work or volunteer for the National Park Service. Ms. Ewing also plans to publicize opportunities for volunteerism in parks prior to and after Peace Corps service.  
Ms. Ewing kicked off this Peace Car trip on Saturday November 19 at Casa Grande Ruins National Monument, in Coolidge, Arizona. The kickoff coincided with the 2016 American Indian Arts and Music Festival held annually there. She met three RPCVs including Casa Grande Ruins National Monument superintendent, Karl Pierce.  
Follow the Peace Car on its trek through Arizona on the Peace Corps West blog (
https://peacecorpswest.com/
). The Peace Car will be at the following NPS sites:  
Tuesday, Nov. 29
Montezuma Castle National Monument, Camp Verde AZ
Montezuma Well, Rimrock AZ
Tuzigoot National Monument, Clarkdale AZ
Sunset Crater Volcano National Monument, Flagstaff AZ
Wednesday, Nov. 30
Walnut Canyon National Monument, Flagstaff AZ
Wupatki National Monument, Flagstaff AZ
Petrified Forest National Park, Petrified Forest AZ
Hubbell Trading Post National Historic Site, Ganado AZ
Friday, Dec. 2
Grand Canyon National Park, Grand Canyon AZ
Saturday, Dec. 3
Tumacácori National Historical Park – La Fiesta de Tumacácori, Tumacacori, AZ
Saguaro National Park (or Sunday morning), Tucson AZ
For more information on this collaborative project, please contact David Reese, Supervisory Public Affairs Specialist, at 310-356-1114 or dreese@peacecorps.gov, or Sharlot Hart, Southern Arizona Office Archeologist at 520-791-6413.
The National Park Service celebrates its 100
th
Anniversary in 2016. Over 20,000 National Park Service employees care for America's 407 national parks and monuments and create close-to-home recreational and cultural opportunities.    
The Southern Arizona Office helps support Arizona's National Park Service sites. For additional information, call 602-794-3804 or visit
https://www.nps.gov/soar