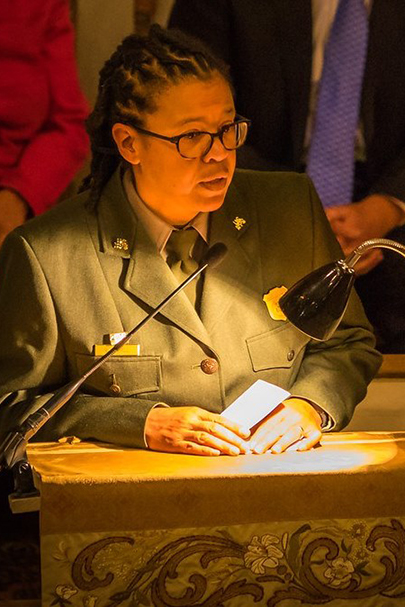 News Release Date: December 14, 2015

Contact: Jane Ahern, 215-597-0865
National Park Service (NPS) Northeast Regional Director Mike Caldwell announced that Rose Fennell has been selected for the position of deputy regional director for the Northeast Region.Fennell comes to the regional office from the position of deputy superintendent for operations at Boston African American National Historic Site (NHS) and Boston National Historical Park (NHP).
"Rose has the operational experience and leadership style to be very effective in her new role with the agency. She has the tenacity and ability to analyze problems and pursue opportunities for creative solutions," shared Caldwell." Rose believes in the NPS mission but is not tied to traditions.She has a can-do attitude that is both visionary and pragmatic, and people look to her for leadership in times of change. She listens to them and they listen to her. "Fennell will begin her new post on January 24 and will be duty stationed in the Northeast Region's Boston Office, located at 15 State Street.
Fennell is one of two deputy regional directors assigned to the region and will oversee operations for parks and programs located in the northern section of the region, including upstate New York, Connecticut, New Hampshire, Rhode Island, Massachusetts, Vermont and Maine. Fennell will also serve as the lead for the education, interpretation, youth, safety and law enforcement programs for the entire region. "Rose's experience in the field, regional and Washington offices have made her an ideal leader for this complicated and demanding position," added Caldwell. "These are interesting times that require people who can envision the future and inspire others –Rose is one of these people. She is the right person to help prepare us for an eminent organizational shift and to bring in the next generation of leaders into the NPS."
"In my new role as deputy regional director for the region, I look forward to working with parks, programs and partners to discover more about these wonderful resources we have the privilege to steward," said Fennell. "I firmly believe that the good work done in and around the Urban Agenda, provides a terrific platform to further motivate us to find stories of relevance and thereby broaden our audiences. What better time to serve in the role of deputy than in 2016, the National Park Service's centennial year?"
As the deputy superintendent for Boston NHP and Boston African American NHS, Fennell found creative and innovative ways to engage long-standing partners and also to diversify partnerships with communities in and around Boston. In August 2015, Fennell emceed an event several years in the making. The Middle Passage Ceremony, held at Faneuil Hall, commemorated enslaved Africans who died and those who survived the horror of the Middle Passage and acknowledged Boston as a port of entry for ships carrying enslaved Africans. "I am always looking for ways to enrich the texture of the history and stories we tell by being as inclusive as possible. We acknowledged that Boston, home of the Freedom Trail, was also home to active trading of enslaved Africans and Native Americans." Fennel has advocated for, and provided opportunities for, diversity and inclusion in the NPS workforce and programming throughout her career.
Fennell was the National Park Service's Bevinetto Congressional Fellow for 2011-2012 and has also served as a special assistant to Director Jon Jarvis and legislative specialist in the Office of Legislative and Congressional Affairs. Prior to her selection as Congressional Fellow she was the National Park Service's cooperating association coordinator in Washington, D.C. for nine years and worked for nonprofit organizations whose work intersects with the National Park Service, including the Wilderness Society and the Parks &History Association.
Fennell's early career was in the field of bookselling where she was a bookstore clerk, book buyer, book reviewer, and eventually a bookstore owner operating Lammas Books & More, with locations in Washington D.C. and Baltimore, from 1991 until 1998. Her free time is devoted to family, including her wife Terri, and their gaggle of pets. "I also hope to return to throwing pottery as time allows," shared Fennell.
About the Northeast Region. The Northeast Regional Office supports the parks and program areas in the northeast states, from Maine to Virginia. The role and function of the regional office is to provide employees with specialized expertise and tools that will foster growth, development, and safety of regional park service employees, volunteers, and partners. The regional directorate provides employees with current information and policy, filtering and interpreting necessary information to and from the Washington office.
About the National Park Service. More than 20,000 National Park Service employees care for America's 409 national parks and work with communities across the nation to help preserve local history and create close-to-home recreational opportunities. Visit us at www.nps.gov, on Facebook www.facebook.com/nationalparkservice, Twitter www.twitter.com/natlparkservice, and YouTube www.youtube.com/nationalparkservice.