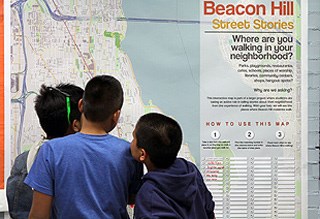 Public Notifications, Information for Grant Applicants and Recipients, and Documents for Comment
Each person has an important perspective on the management of grant activities sponsored by the National Park Service through the State, Tribal, and Local Plans & Grants Division.
The National Park Service consults with interested parties, state governments, and tribal governments on the effects of proposed actions (called undertakings) on historic properties and the environment as required by Section 106 of the National Historic Preservation Act of 1966, as amended, and the National Environmental Policy Act of 1969, as amended. As per 36 CFR Part 800.2(d) and Director's Order 75A, individuals or governments interested in the effects of these undertaking upon historic resources, or items identified within programmatic agreements, may contact the National Park Service for more information or to offer their comments. For more information on opportunities for public comment, please see the Public Planning Documents section below.
In some cases, policy or law may require that we notify the public of certain actions or our intent to undertake certain actions, like funding a grant or sub-grant that has the potential to yield archeological information. In other cases, governmentwide transparency initiatives may require that we post or otherwise make available the text of grant agreements. For more information on these types of notifications, please see the Agreement Documents section below.
In addition to being guided by public comments on our grant programs, the Department of the Interior applies law and policy to all grant programs. Potential applicants, as well as those already receiving funds, should review these terms and conditions in addition to any stipulations of the funding opportunity announcement, an executed grant agreement, and other relevant sources of information. For more information on the departmental conditions for grants, please see the Terms and Conditions for Financial Assistance Agreements section below.
Opportunities for public comment, notification of pending or current undertakings, and Department of the Interior global conditions on grants may be found on one of the three sections of this website:
Public comments must be submitted in writing, preferably using the National Park Service online comment database. Those unable to use this system may submit comments in writing to the address below.
Technical Reviewer: [add project name or reference]

State, Tribal, and Local Plans & Grants Division

National Park Service

1849 C Street, NW Mail Stop 7360
Washington, DC 20240