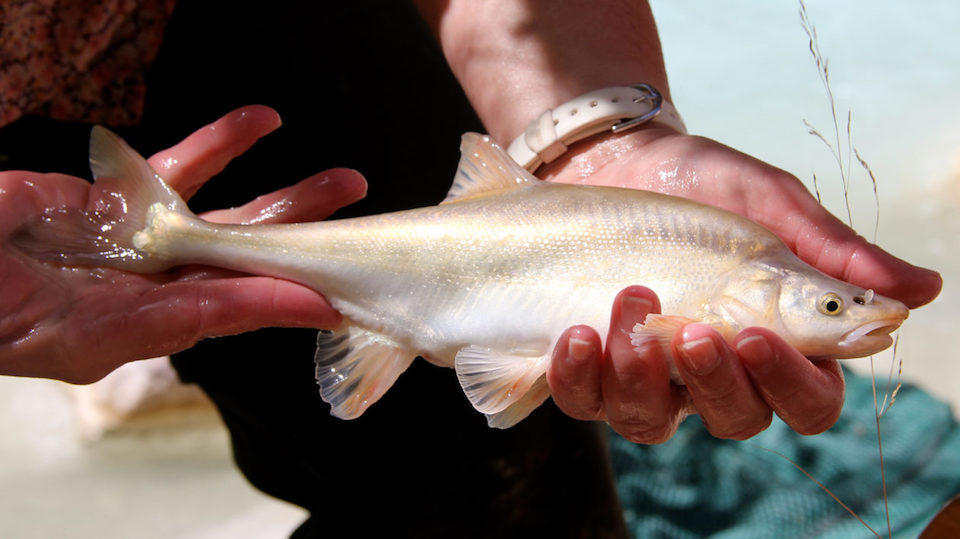 News Release Date: March 2, 2018

Contact: NPS Investigative Services Branch, (202) 379-4761
A man has been charged for the illegal take of rare fish protected by the Endangered Species Act, bringing to a close an interagency investigation by US Park Rangers of Grand Canyon National Park, Special Agents of the National Park Service Investigative Services Branch (ISB), the Havasupai Tribe, and the US Fish & Wildlife Service (USFWS). The investigation began when an employee of the park witnessed the illegal take of humpback chub, a fish listed as federally endangered, in October 2014.
Joao Paulo Ribeiro Ferreira, age 33, was seen fishing with a group in Havasu Creek below Beaver Falls. The pool they were in is on the boundary of the national park and the Havasupai Indian Reservation. Ferreira caught and gutted two humpback chub, a species of fish endemic to the Colorado River Basin.
Investigators followed leads across agency and state boundaries to locate the group of men observed taking this endangered species. Through their dedicated efforts, they were able to show that Ferreira did knowingly and intentionally take the fish protected by the Endangered Species Act. He was charged and fined by the USFWS for this act.
Although humpback chub once flourished in the natural conditions of the Colorado River amid its warm turbid waters and seasonally fluctuating flows, the species now faces serious population declines. It is also listed as a Wildlife of Special Concern in Arizona and is on the Navajo Endangered Species List as one whose prospect of survival or recruitment is in jeopardy.
In 2011, the National Park Service, in cooperation with the Bureau of Reclamation and the USFWS, began a project to translocate wild juvenile humpback chub to Havasu Creek below Beaver Falls in Grand Canyon National Park. These fish were captured from the Little Colorado River, the largest remaining population of humpback chub in the world, and transported by helicopter to a USFWS facility in New Mexico. There they were treated to remove parasites, kept overwinter, and implanted with transponder tags before transport to Havasu Creek for release into a deep pool at the base of Beaver Falls. Park personnel continue to monitor the growth, movement, reproduction, and survival rates of the humpback chub.
ISB: the Investigative Services Branch of the National Park Service
www.nps.gov/ISB