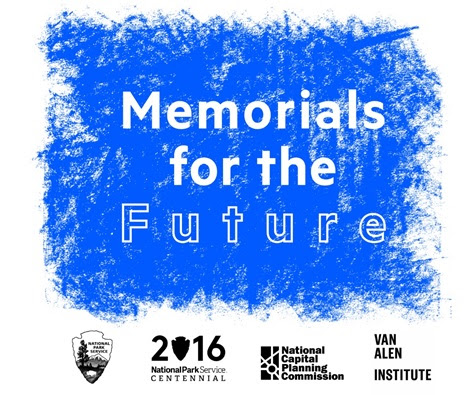 News Release Date: June 9, 2016

Contact: Jenny Anzelmo-Sarles, 202-619-7177
Contact: Stephen Staudigl, 202-482-7279
Contact: Steven Thomson, 202-924-7000 x 12
WASHINGTON (June 9, 2016) – At an event held June 8 at the National Archives in Washington, D.C., the National Park Service (NPS), National Capital Planning Commission (NCPC), and Van Alen Institute announced the top four finalists for Memorials for the Future, an ideas competition that aims to rethink the way we develop and experience memorials.
The proposals address different subject matter, including climate change, immigration, and national parks. Together, they offer a variety of innovative approaches to share and add new narratives, and connect people and places from across the nation. Various technologies are proposed to provide commemoration content and interpretation, and several designs change over time. Two teams selected specific locations on the waterfront and in neighborhoods, while the other two concepts could occur at multiple locations.
The four finalists are (note: team member affiliations are provided for background reference, and entries do not necessarily represent the indicated organization):
American Wild: A Memorial
Forbes Lipschitz (team lead, LSU Robert Reich School of Landscape Architecture), Halina Steiner (LSU), Shelby Doyle (Iowa State University College of Design), Justine Holzman (University of Tennessee)
American Wild virtualizes the National Parks through an interactive, immersive installation. Using ultra-high-definition video, recordings of each of the 59 natural parks can be projection-mapped at full scale. Audio recordings heighten the visceral experience and establish emotional connections to the landscape. The memorial democratizes National Park access by creating an installation in one of the most economically and racially diverse neighborhoods in the nation's capital.
"The National Parks are a living memorial to a uniquely American idea of wilderness," said finalists Forbes Lipschitz, Halina Steiner, Shelby Doyle, and Justine Holzman. "American Wild captures the majesty of the nation's landscape and brings it to its capital."
VOICEOVER
Anca Trandafirescu (team lead, University of Michigan Taubman, College of Architecture and Urban Planning), Troy Hillman (University of Michigan), Yurong Wu (University of Michigan), Amy Catania Kulper (University of Michigan)
VOICEOVER is a project that embraces a broader and more democratic form of national memorialization. Rather than a freestanding monument, VOICEOVER is a supplemental overlay that expands the original monuments' meanings and extends the territory of possible memorial subjects deeply into Washington, D.C.'s urban fabric.
"Perhaps the role of memorials in our society can become more representative of a multi-cultural society that holds diverging understandings and conflicting perspectives on the events and spaces of their future history," said finalists Anca Trandafirescu, Troy Hillman, Yurong Wu, and Amy Catania Kulper. "We are interested in creating memorials that embrace difference and make space for conversation, debate, and disagreement as a new means of constructing our collective memory."
Climate Chronograph
Erik Jensen (team lead, architect, San Francisco Bay Area), Rebecca Sunter (Lutsko Associates, San Francisco Bay Area)
A platform for witnessing rising seas, the Climate Chronograph is a living observatory for an unfolding global story. Over a lifetime, a visitor will experience the same place, enabled to clearly observe changes over generations.
"Van Alen Institute, NPS and NCPC are providing a far and few between opportunity to reengage our collective relationship with time and memory," said finalists Erik Jensen and Rebecca Sunter. "We are honored to jump into that discourse from the vantage of sea level rise. Climatic changes remind us of the generational impacts of our daily actions. Our memorial concept aims to spatialize this moment of uncertainty and challenge. Making space to mark today's shoreline as a function of past actions and marking future choices, we want a place that both extends and contracts our human experience of time. Nature's slow pace has a long unfolding;and simultaneously, the past, present, and future are forever embedded together."
THE IM(MIGRANT): Honoring the Journey
Radhika Mohan (team lead, Neighborhood Planning and Community Development Division of the City of Alexandria), Sahar Coston-Hardy (Photographer/Videographer, Philadelphia), Janelle L. Johnson (Hoerr Schaudt Landscape Architects, Chicago), Michelle Lin-Luse (Town &Gardens, New York City)
THE IM(MIGRANT) is a proposal that responds to the elemental American experiences of movement and migration, reinforcing core American beliefs by unfolding and commemorating the varied journeys that grandparents, parents, brothers, sisters, cousins, aunts, uncles, friends, and strangers have taken through the landscape of Washington, D.C.
"Our hope for THE IM(MIGRANT) is to celebrate the journey that shapes us both individually and as a nation by acknowledging that we all come from somewhere," said finalists Radhika Mohan, Sahar Coston-Hardy, Janelle L. Johnson, and Michelle Lin-Luse. "In light of the heightened national debate about immigration, the competition allows us to share these stories in meaningful ways through urban design, storytelling, and placemaking. We are excited about the opportunity to further explore these ideas through this collaborative process."
Memorials for the Future aims to look beyond the traditional approach to permanent commemoration, and create new ideas for honoring our diverse histories, heritage and culture. The competition partners hope to spark a wider public dialogue around what subjects the American people want to memorialize and how best to pursue commemoration. The announcement of the finalist teams preceded apublic panel discussion that further examined opportunities for new and expanded approaches to commemoration.
Each of the four finalist teams will receive a $15,000 stipend and work closely with Van Alen Institute to further develop their proposals over the course of two months, responding to feedback from the 11 project jurors throughout the process. The winning team will be announced at a final exhibition in Washington, D.C., onSeptember 8.
Images and project descriptions for the finalists are available for high-resolution download atfuture.ncpc.gov.
Memorials for the Future, announced by theWhite House in October 2015 and launched onApril 11, received proposals from 89 teams comprising 309 total participants from eight countries and dozens of disciplines, including design, art, engineering, anthropology, architecture, landscape architecture, environmental science, oral history and many more. A team of 11 jurors chose the four finalists after a rigorous review of the semi-finalists' concepts, approaches, site locations, and experience.
Jurors
###
About the National Park Service
More than 20,000 National Park Service employees care for America's 411 national parks and work with communities across the nation to help preserve local history and create close-to-home recreational opportunities.
Website: www.nps.gov
Twitter: @NatlParkService
Instagram: @NationalParkService
Facebook: /nationalparkservice
About the National Capital Planning Commission
Established by Congress in 1924, the National Capital Planning Commission is the federal government's central planning agency for the Washington, D.C. region. NCPC preserves and enhances the extraordinary historical, cultural, and natural resources and federal assets of the region to support the needs of the federal government and enrich the lives of the region's visitors, workers, and residents.
Website: www.ncpc.gov
Twitter: @NCPCgov
Instagram: @ncpcgov
Facebook: /NCPCgov
About Van Alen Institute
At Van Alen Institute, we believe design can transform cities, landscapes, and regions to improve people's lives. We collaborate with communities, scholars, policymakers, and professionals on local and global initiatives that rigorously investigate the most pressing social, cultural, and ecological challenges oftomorrow. Building on more than a century of experience, we develop cross-disciplinary research, provocative public programs, and inventive design competitions.
Website: www.vanalen.org
Twitter: @van_alen
Instagram: @van_alen
Facebook: /vanaleninstitute