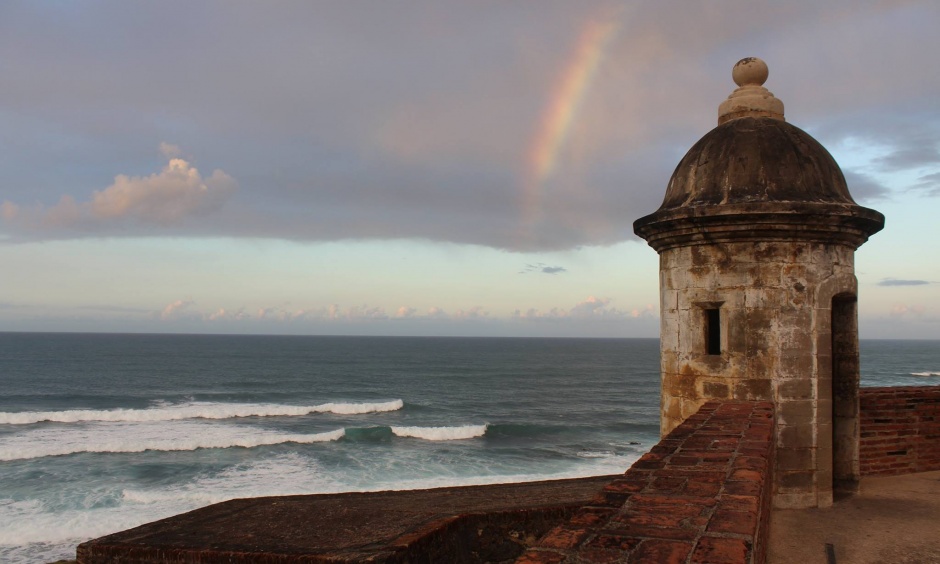 News Release Date: November 21, 2017

Contact: NPS Office of Communications
Iconic historic sites generate tourism revenue for area
WASHINGTON - U.S. Secretary of the Interior Ryan Zinke and the National Park Service (NPS) today announced that the NPS has resumed normal operations and public tours at the visitor center and Castillo San Cristóbal area of San Juan National Historic Site. Castillo San Felipe del Morro is expected to reopen as early as next week. The National Park Service is an important tourism factor in Puerto Rico, generating more than $100 million in economic activity every year for the island. In 2016, more than 1.4 million people visited NPS sites in Puerto Rico, spurring more than $85 million in visitor spending. The 1,065 jobs the park visitors supported created more than a $100 million in economic output and $40 million in income.
On September 20, Category 5 Hurricane Maria hit Puerto Rico causing damage to the historic fortifications at San Juan National Historic Site and forcing closures at the site. Since that time the NPS has been working to repair and restore the site and to ensure that facilities are safe for visitors and employees.
"For over 400 years, Castillo San Felipe del Morro has stood as guardian and symbol of Puerto Rico's heritage, and it's also a major tourism attraction for visitors from all over the world" said Secretary Zinke. "I'm incredibly proud of the National Park Service and entire Interior family who have been working nonstop to reopen this important cultural and tourism attraction. Part of rebuilding communities means rebuilding revenue streams so folks can get back to work, earn a living, and care for their families. The National Park Service will continue to work closely with the people of Puerto Rico to restore life into this vibrant community."
The governor of Puerto Rico, Ricardo Rosselló, said, "with the announcement of the reopening of these spaces we show that we are en route to the recovery of our Island. The San Cristóbal Castle and San Felipe del Morro Castle are part of the historical and cultural heritage of Puerto Rico, essential spaces to continue promoting tourism as part of our economy. We invite all Puerto Ricans and visitors to continue enjoying the national historic sites of our Island."
San Juan National Historic Site is comprised of Castillo San Felipe del Morro, Castillo San Cristóbal, Fort San Juan de La Cruz (El Cañuelo), La Puerta de San Juan and most of the city wall. The park is open every day from 9:00 a.m to 6:00 p.m, except on Thanksgiving, Christmas, and New Year's Day.
It is anticipated that Castillo San Felipe del Morro will open on Monday, November 27, 2017. On Saturday, December 2, 2017, the park is planning to host a community reopening event for the public.
For a complete listing of times and dates for activities at San Juan National Historic Site, follow the park on Facebook at https://www.facebook.com/SanJuanNPS/ or visit the park's website http://www.nps.gov/saju/planyourvisit/guidedtours.htm. For continued updates on the status of national park areas in the Caribbean and elsewhere that have been affected by hurricanes and severe weather visit: http://go.nps.gov/hurricanes.
~NPS~