News Release
NPS celebrates landmark National Heritage Area Act legislation with National Heritage Areas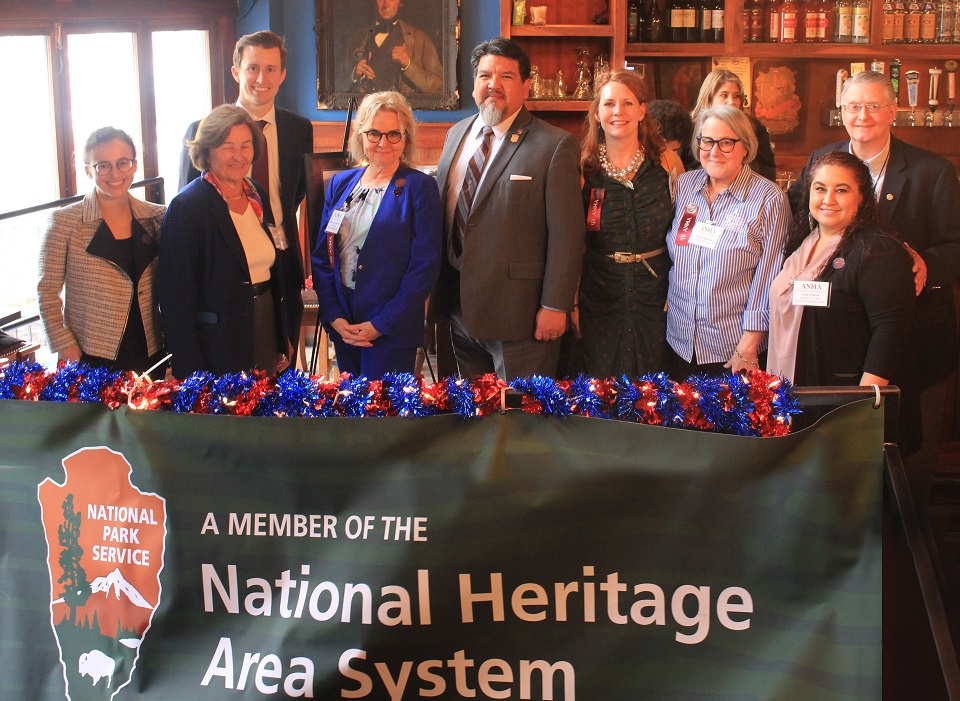 News Release Date: February 8, 2023
WASHINGTON — National Park Service (NPS) Director Chuck Sams met with members of the Alliance of National Heritage Areas Feb. 7 to commemorate the historic signing of the National Heritage Areas Act last month, which establishes a National Heritage Area (NHA) System and a statutory framework for the NPS's role in its administration. 
"National Heritage Areas represent the unique fabric of America and serve as points of community pride, where locals and visitors alike can come together in the spirit of unity and share in collective experiences," said NPS Director Chuck Sams. "The NHA Act formalizes the relationship between the National Park Service and National Heritage Areas and will further paint America's heritage landscape beyond the canvas of national parks."  
NHAs are designated by Congress as places where natural, cultural, and historical resources combine to form cohesive, nationally important stories. Unlike national parks, NHAs are lived in-communities and not federally owned but may contain parks or other federally owned property. Through public-private partnerships, NHAs tell nationally important stories that celebrate our nation's diverse heritage.  
On Jan. 5, 2023, President Biden signed the National Heritage Areas Act into law. The act, which designates, extends, and authorizes studies for NHAs throughout the United States, is a first-of-its-kind, landmark legislation in the 39-year history of the NHA program, formalizing standard criteria in oversight, analysis, coordination, and support to ensure consistency and accountability of the NHA System. 
As partners to NPS parks and programs, the 62 NHAs across 36 states and territories are grassroots, community-driven approaches for heritage conservation and economic development. The NPS supports NHAs by providing technical and financial assistance on fields such as historic preservation, natural resource conservation, recreation, education, and heritage tourism. 
The NHA System is composed of National Heritage Areas, National Heritage Corridors, National Heritage Canalways, Cultural Heritage Corridors, National Heritage Routes, and National Heritage Partnerships. 
In 1984, President Ronald Reagan signed the first NHA into law, the Illinois and Michigan Canal National Heritage Corridor. The 96-mile, hand-dug Illinois and Michigan Canal opened in 1848 to connect the American heartland to New York Harbor and New Orleans, allowing farmers a reliable way to transport crops to market. In his dedication speech, Reagan referred to NHAs as "a new kind of national park" that marries heritage conservation, recreation, and economic development.   
Visit the NPS National Heritage Areas to learn more about community-led conservation and development. Discover a National Heritage Area near you using the National Heritage Areas map. 
About the National Park Service. More than 20,000 National Park Service employees care for America's 424 national parks and work with communities across the nation to help preserve local history and create close-to-home recreational opportunities. Learn more at www.nps.gov, and on Facebook, Instagram, Twitter, and YouTube. 
Last updated: February 8, 2023