News Release
National Park Service announces death of former director Mary Bomar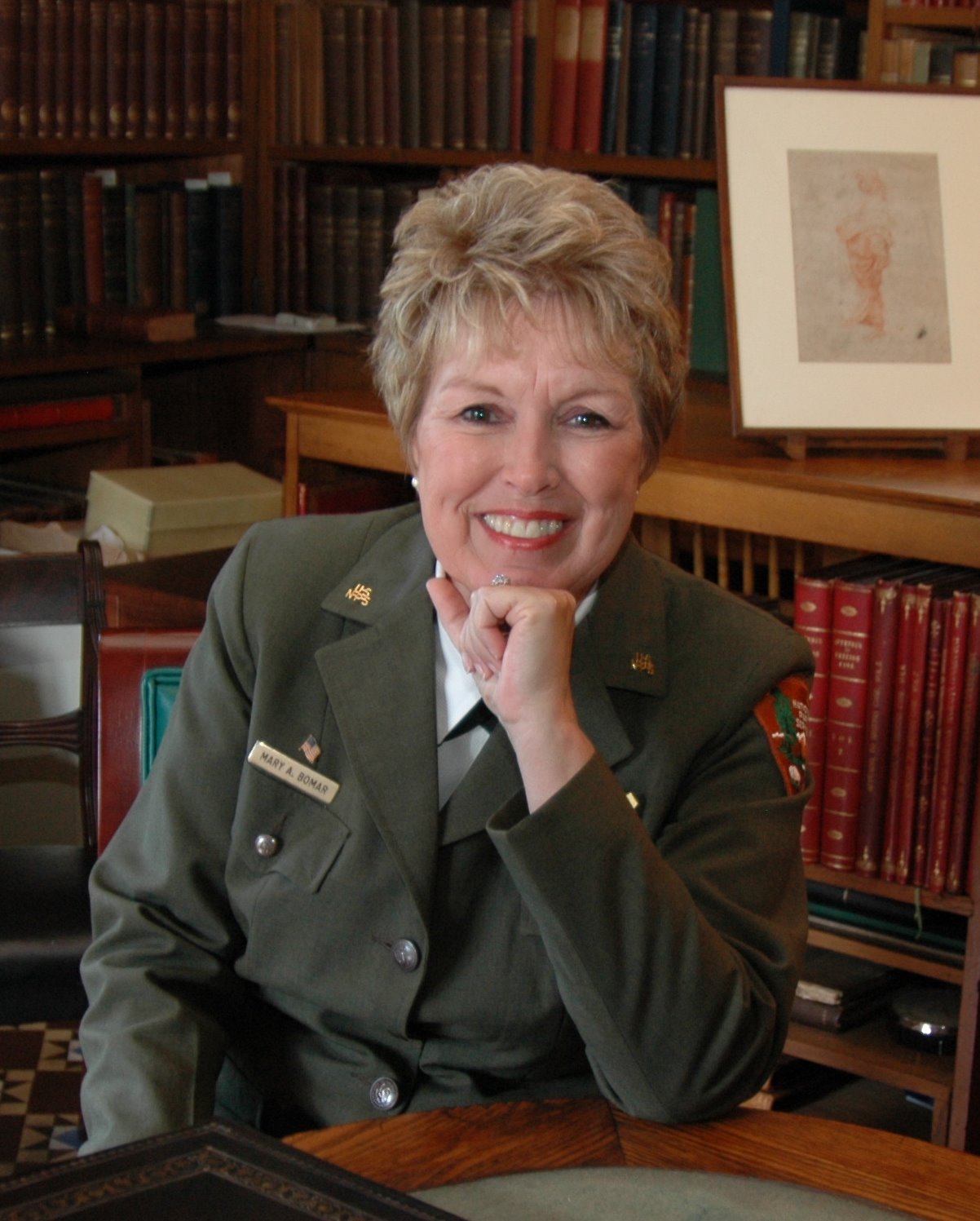 News Release Date: September 6, 2022

Contact: NewsMedia@nps.gov
WASHINGTON -  Former National Park Service Director Mary Bomar died on Sunday, August 28, 2022, after a dogged fight against cancer. She was 78 years old. Bomar was appointed as the 17th director of the National Park Service (NPS) by President George W. Bush in October 2006 and served through the end of the Bush Administration.
Bomar was born on June 30, 1944 and was raised in Leicestershire, England, United Kingdom. She became a U.S. citizen in 1977 and was the first naturalized US citizen to serve as NPS Director. In 1990, Bomar began her NPS career in financial administration at Amistad National Recreation Areas in Texas, rising through the ranks to become the first superintendent at Oklahoma City National Memorial. She later served as superintendent of Independence National Historical Park in Philadelphia and the northeast regional director managing 100 parks including Acadia, Gettysburg, Shenandoah, and the Statue of Liberty in thirteen northeastern states before her appointment as Director.
"As a naturalized US citizen, Mary often referred to herself as "an American by choice." This unique perspective gave her the ability to see the national parks for what they truly are, America's most precious gifts," 
NPS Director Chuck Sams
 said. "As we honor Mary's life and legacy, we look to her dedication as an example to be emulated by all who follow in her footsteps."
As Director, Bomar led the kick-off the 10-year National Park Centennial Challenge to help prepare the National Park Service for another century as the world's leading conservation, preservation, and visitor enjoyment agency. During her tenure, she focused on increasing capacity of the System to serve visitors, preparing the next generation of park leaders, and re-engaging the American people with their national parks in the run up to the Centennial of the agency in 2016.
"There are special places that unite us all as Americans and national parks are those places," Bomar said of national parks during her tenure. "From iconic parks like Yellowstone and Gettysburg to places like the African Burial Ground and Rosie the Riveter, our national parks truly reflect the soul of America."
After serving as director, Bomar served as National Advisor to The American Village in Montevallo, Alabama.
Prior to her National Park Service career, Director Bomar worked for the United States Air Force in the Morale Welfare and Recreation Program at various bases in the United States and Europe, and as a member of the Inspector General team.
Her long list of accolades includes the Department of the Interior Superior and Meritorious Service Awards; the NPS Intermountain Region Charismatic Leadership Award and the Philadelphia Hospitality "Good Scout" Award presented by the Cradle of Liberty Council, Boy Scouts of America. In 2008, she was named by President Bush to lead the U.S. delegation to the state funeral of Sir Edmund Hillary, the New Zealander who was the first man to reach the summit of Mount Everest.
Bomar is survived by her husband Milton and their three children, Donna, John and David. Their daughter and two sons along with their spouses, seven grandchildren (Kaeleigh, Kandice, Alexandra, David, Cassandra, Amanda, and Robert) and 4 great grandchildren (Amelia Rose, Henry, Hudson and Cody) all reside in Texas.  
About the National Park Service.
More than 20,000 National Park Service employees care for America's 423 national parks and work with communities across the nation to help preserve local history and create close-to-home recreational opportunities. Learn more at 
www.nps.gov
, and on 
Facebook
, 
Instagram
, 
Twitter
, and 
YouTube
. 
Last updated: September 6, 2022