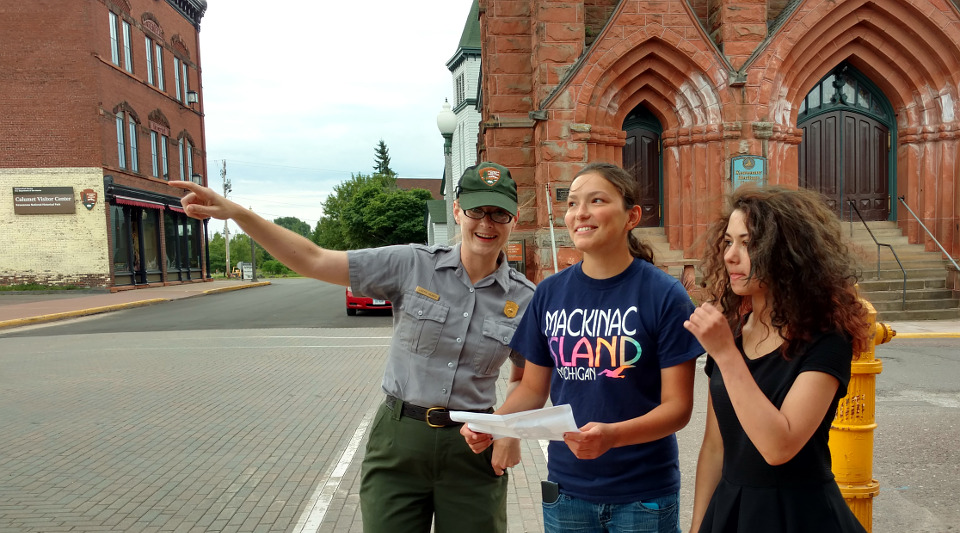 News Release Date: January 3, 2017

Contact: Kathy Kupper, 202-208-6843
Washington, DC – Park Ranger Lynette Webber of Keweenaw National Historical Park is the recipient of the 2016 Freeman Tilden Award. She received the National Park Service's most prestigious interpretive honor for the multi-faceted
Missing in the Copper Country
program.  
The Freeman Tilden Award is an annual award recognizing outstanding contributions to the public through interpretation and education by a National Park Service employee. The award was created in 1982 to stimulate and reward creative work that results in positive impacts upon the visiting public. The award is named for Freeman Tilden, who has inspired generations of interpreters and whose book
Interpreting Our Heritage
continues to be a definitive text for the discipline.  
"Lynette used a creative combination of tools and methods to spark enthusiasm and trigger additional historic preservation efforts in the community," said National Park Service Director Jonathan B. Jarvis. "Although the mines closed long ago, Lynette has resurrected 'copper fever' and connected people of all ages to the area's rich history."  
In the 19
th
century, the people and places of Michigan's remote Keweenaw Peninsula were transformed by a copper deposit that attracted investors, miners, and entrepreneurs.
Missing in the Copper Country
transports people back in time to the boom years by blending old photographs and new technology.  
Weber superimposed
historic images
onto present-day photos to highlight landscape and building changes and losses through the years. The series is a visual history of change and a reminder that today's empty lots once hosted a thriving community.  
Her program research included studying maps, viewing hundreds of historic photos, meeting with community members, and visiting site locations to pinpoint locations and ensure accuracy. Weber also researched the history of each building to provide relevant context for the images. The photos were posted on social media sites and used in temporary exhibits, walking tours, and illustrated programs.  
Weber also fueled the interest of local youth and engaged them in the project. She worked with high school students to convert social media posts into interactive ArcGIS maps so that visitors could take self-guided tours on mobile devices. In addition, she created an interactive program where children recreate a small scale version of the town using LEGO bricks and three dimensional versions of the buildings.  
"
Mining in the Copper Country
has led to an increase in both physical and virtual visitors to the park," said Keweenaw National Historical Park Superintendent Wyndeth Davis. "It has also inspired additional research efforts as well as an interest to protect more of the area's historic fabric."
NPS