News Release
Bison Transfer to Establish Wolakota Buffalo Range Marks Interior Commitment to Bison Conservation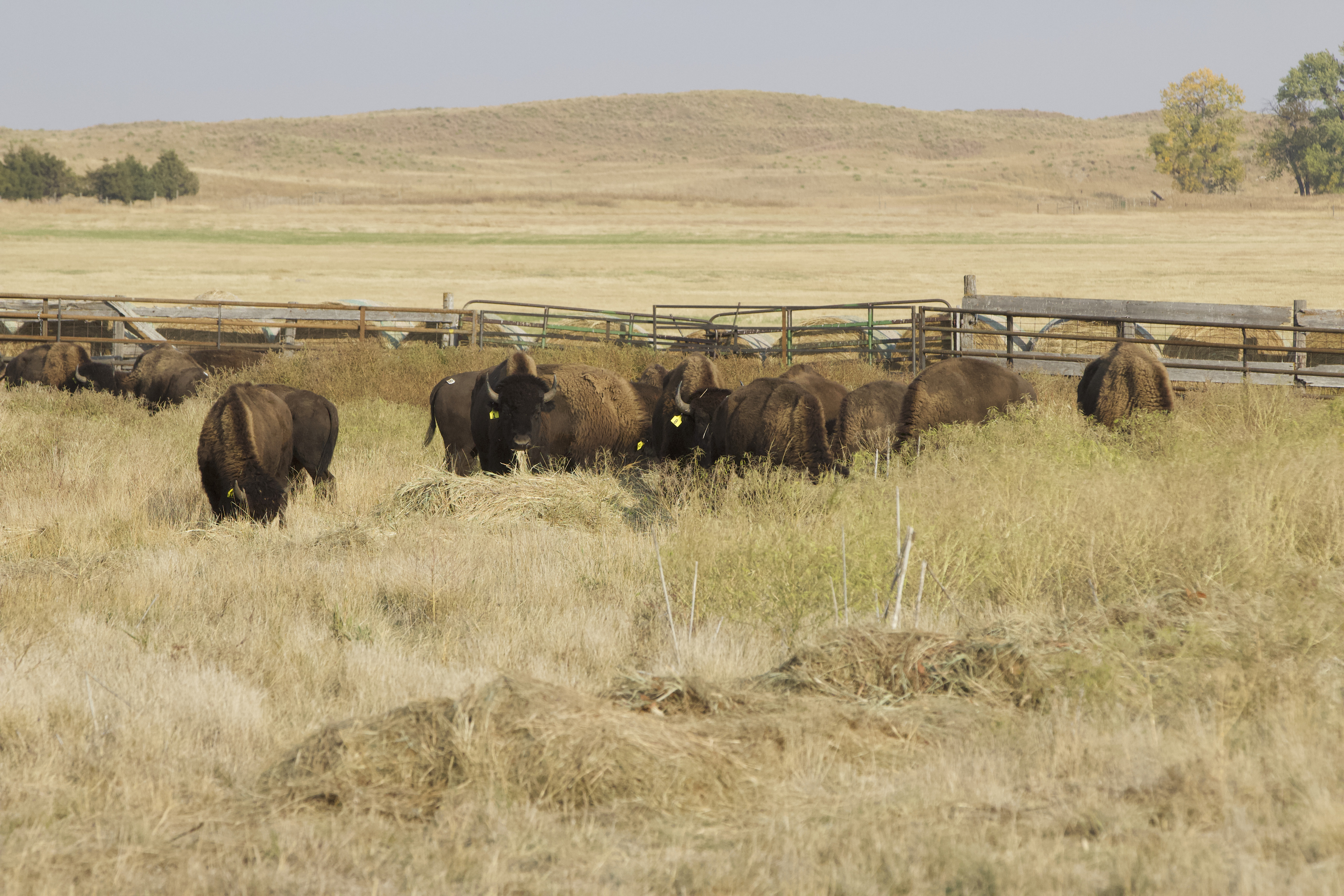 News Release Date: October 30, 2020

Contact: NewsMedia@nps.gov
WASHINGTON – Department of the Interior officials today joined leaders from the Sicangu Lakota (Rosebud Sioux) Nation and World Wildlife Fund (WWF) as 100 wild bison from nearby national parks were released onto nearly 28,000 acres of native grasslands on the Rosebud Sioux Indian Reservation in South Dakota. The bison are the initial transfer, under the 2020 Bison Conservation Initiative, from DOI herds to the Wolakota Buffalo Range that will eventually be the nation's largest tribally managed herd and home to 1,500 bison.

"The National Park Service is honored to be a partner to ecological and cultural restoration of bison to Native American people," said Margaret Everson, Counselor to the Secretary, exercising the delegated authority of the National Park Service Director. "We are part of the DOI effort to conserve wild, healthy herds of bison which requires our best scientific work within DOI, and diverse partnerships of public agencies, private partners, and native nations. DOI's partnership in today's establishment of the Wolakota Buffalo Range represents real progress in that direction. This herd will also support economic development, job creation, education and food sovereignty for the Rosebud Sioux Nation." 

"The sacred relationship between Native nation communities and the buffalo is part of a shared story of strength, resilience and economic revitalization," said Wizipan Little Elk, CEO, REDCO. "The arrival of the buffalo marks a new beginning for the Sicangu Oyate, where cultural, ecological and economic priorities are equally celebrated and supported and are of great benefit to our community."

Today's Wolakota Buffalo Range bison came from Badlands National Park in South Dakota and from Theodore Roosevelt National Park in North Dakota under the umbrella of the 2020 Bison Conservation Initiative (BCI). The initiative is a 10-year plan for bison conservation that emphasizes shared stewardship and ecological and cultural restoration, including transfers of bison from Department of Interior lands to Native Nations. Additional bison will be sent from other parks and National Wildlife Refuges over the next several years. 

The lead partners for the Wolakota Buffalo Range event are the Rosebud Economic Development Corporation (REDCO), which is the economic arm of the Rosebud Sioux Tribe, and WWF. There are five supporting DOI bureaus: Bureau of Indian Affairs, Bureau of Land Management, U.S. Fish and Wildlife Service, the National Park Service and the U.S Geological Survey.

Other actions are planned under the BCI. The Department of Interior's Bison Working Group, made up of scientists and managers from the five supporting DOI agencies that work on landscape-level collaborative conservation and restoration issues, will be working with a range of partners for additional bison transfers as well as continued bison health and genetic studies, and ecological and cultural restoration projects. In support of genetic conservation and scientific research, bison were also translocated this week across Interior bureaus to contribute to an on-going genetics study. Six yearling female bison were transferred Tuesday from Rocky Mountain Arsenal National Wildlife Refuge in Colorado to Theodore Roosevelt National Park, where National Park Service experts will study the extent to which translocated animals integrate into established herds. Several hundred additional bison were also sent to dozens of tribes through a longstanding partnership with the InterTribal Buffalo Council.

Once numbering an estimated 30 million, American bison were hunted to near extinction in the late 19th century. Today there are about 11,000 plains bison in 19 herds on 4.6 million acres (about the area of New Jersey) of public land across 12 states. The 2020 Bison Conservation Initiative builds on earlier DOI conservation efforts and reaffirms commitments to large, wild, connected, genetically diverse and healthy bison herds and to conservation that includes shared stewardship, ecological restoration, and cultural restoration.

On Friday, National Park Service officials met with representatives from the Rosebud Sioux Government, REDCO, WWF and Tribal Land Enterprise (TLE) at events to welcome the bison to the Wolakota Buffalo Range. National Park Service leaders also took part in ceremonies and release of the donated bison along with tribal members and spiritual leaders and WWF.

www.nps.gov
About the National Park Service. More than 20,000 National Park Service employees care for America's 421 national parks and work with communities across the nation to help preserve local history and create close-to-home recreational opportunities. Learn more at www.nps.gov, and on Facebook, Instagram, Twitter, and YouTube. 
Last updated: October 30, 2020