Protecting Bison
Current Conservation Status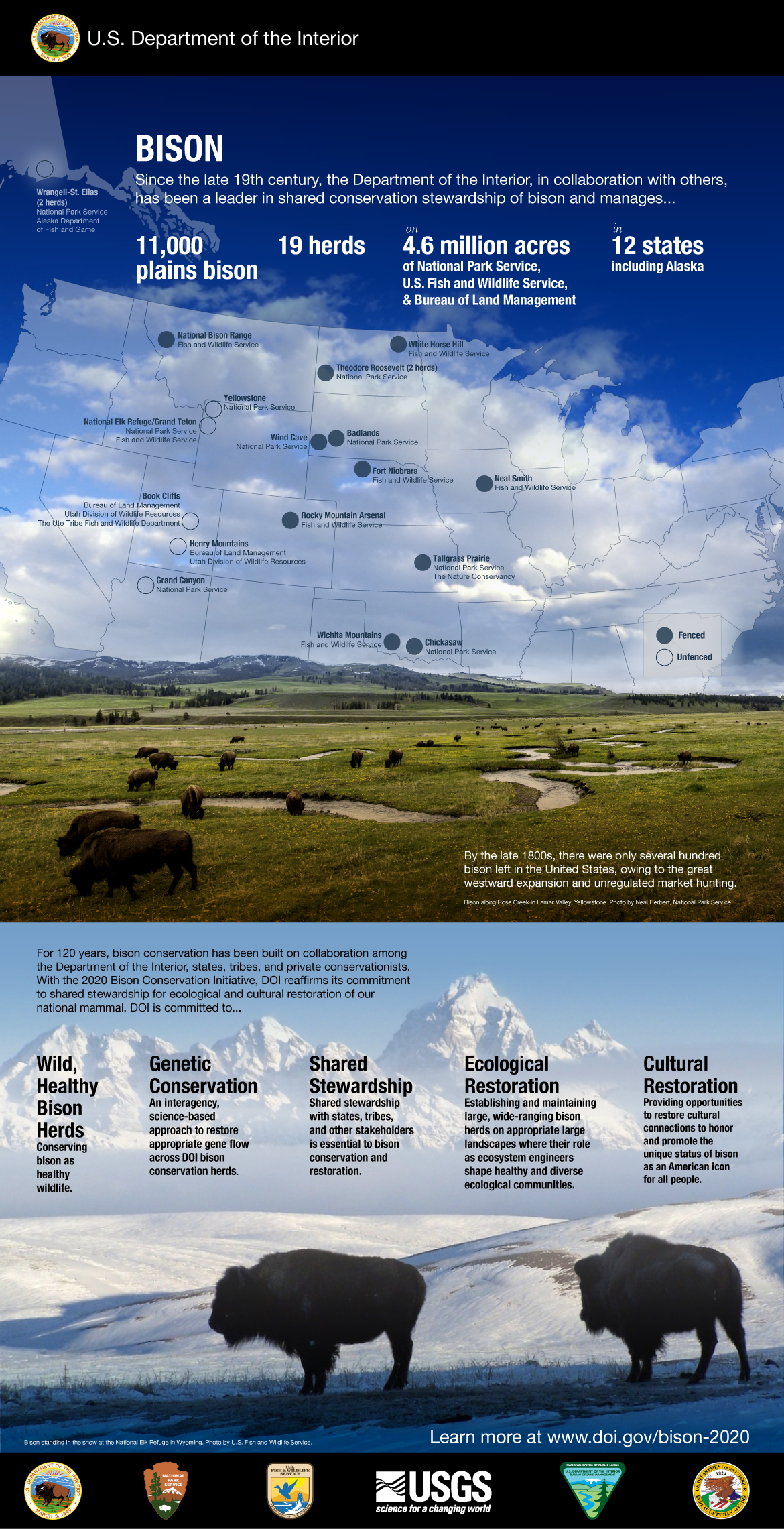 Today, the Department of the Interior (DOI) supports 19 bison herds in 12 states, for a total of approximately 11,000 bison over 4.6 million acres of DOI and adjacent lands. DOI bison resources, whose total population accounts for one-third of all bison managed for conservation in North America, are crucial to the long-term preservation of the species, and DOI bison managers work with other bison conservation partners, including Native American tribes and Canadian First Nations, state wildlife management agencies, zoos, academic institutions, Canadian and Mexican wildlife management agencies, and non-governmental organizations to share the stewardship of bison across North America.
Read the 2020 Bison Conservation Initiative >
The 2020 DOI Bison Conservation Initiative's goals:
Wild, Healthy Bison Herds: A DOI commitment to conserve bison as healthy wildlife.
Genetic Conservation: A DOI commitment to an interagency, science-based approach to support genetic diversity across DOI bison conservation herds. 
Shared Stewardship: A DOI commitment to shared stewardship of wild bison in cooperation with states, tribes, and other stakeholders.
Ecological Restoration: A DOI commitment to establish and maintain large, wide-ranging bison herds on appropriate large landscapes where their role as ecosystem engineers shape healthy and diverse ecological communities. 
Cultural Restoration: A DOI commitment to restore cultural connections to honor and promote the unique status of bison as an American icon for all people. 
For additional information about the science, benefits, and goals of bison transfers, see the population viability analysis listed below that was conducted by the Wildlife Conservation Society, NPS, and the U.S. Fish and Wildlife Service.
Relevant Articles on the Initiative
Over the course of the past century, the American bison was saved from extinction and set upon a path of recovery and conservation. While most bison (with numbers around 360,000) in North America are raised as livestock for meat, leather and other commercial uses, only about 11% (31,000) of all bison are managed for ecological and conservation goals. This has inspired federal and state agencies, Native American tribes and nongovernmental conservation organizations to collaboratively work toward the second recovery of bison, where shared stewardship efforts are aimed at restoring wild bison at ecologically relevant scales, while also generating a value-added economy, improving human and environmental health, and supporting Tribal historical and cultural values associated with wild bison.

Explore this page to learn about the current status and challenges, as well as recent scientific studies happening in national parks today!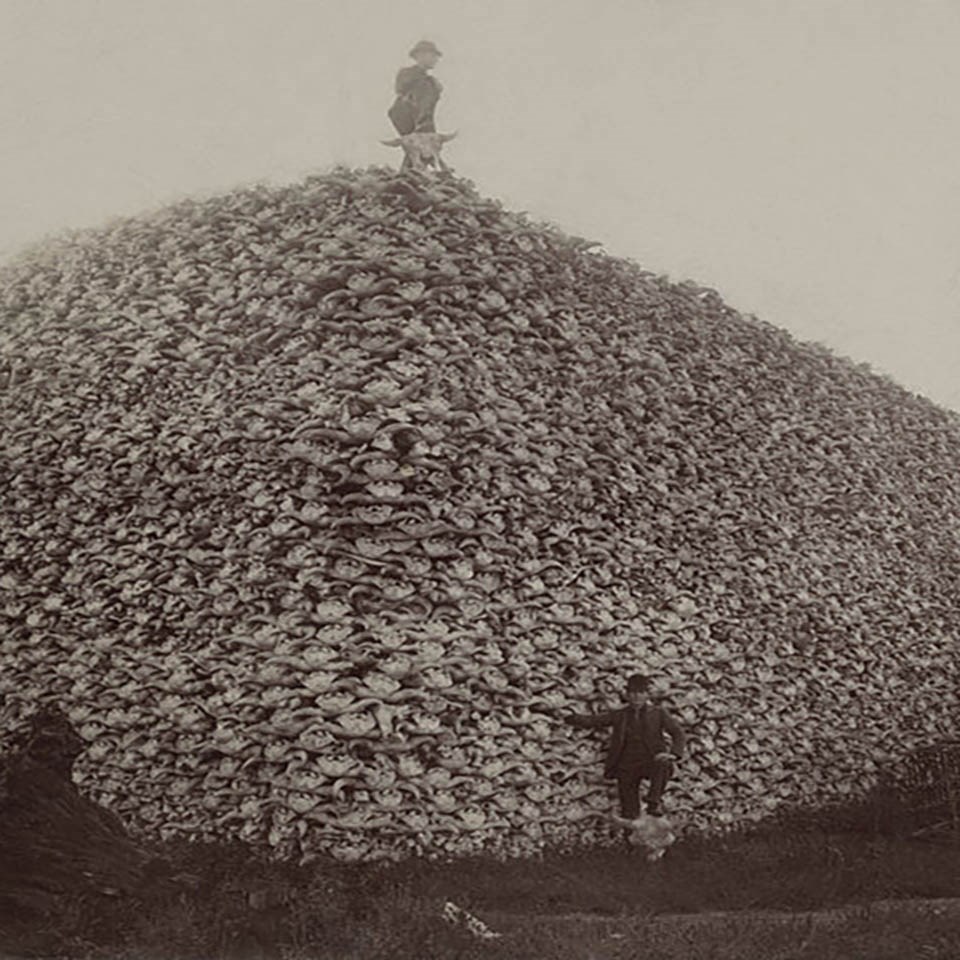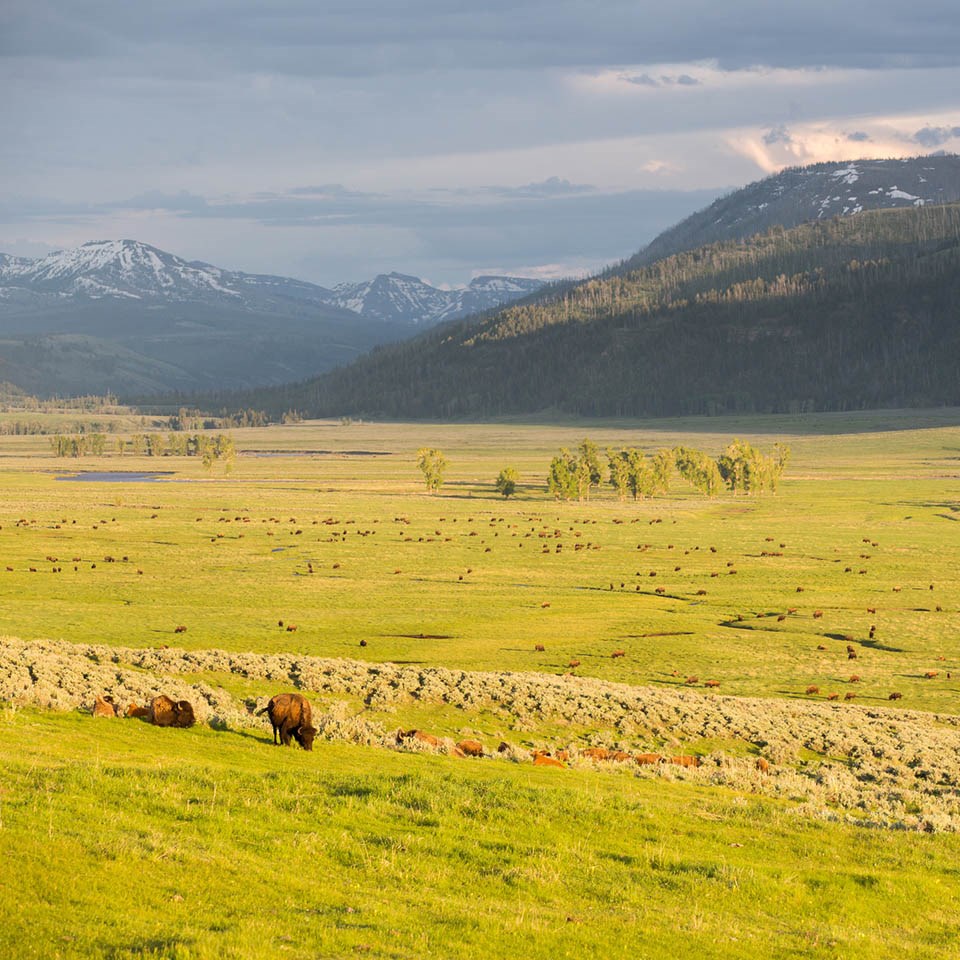 Left image
A famous, historic photo showing bison hunters atop a pile of hundreds of bison skulls
Right image
Yellowstone National Park's Lamar Valley, where bison once again populate the land
While bison are no longer threatened by extinction, substantial work remains to restore the species to its ecological and cultural role on appropriate landscapes within its historical range. Perhaps the greatest conservation challenge that bison face is the lack of large blocks of habitat where they can freely roam and be managed as wildlife, similar to deer, elk, antelope, and other wildlife species. Our coexistence with free-ranging bison is constrained by concerns about safety, disease transmission, and protection of property. As a result, many bison conservation herds are managed as small, isolated herds behind fences that require selective culling annually. These restrictions have social, genetic, population-level, and ecological consequences that ultimately affect the long-term recovery of bison as a species and how we interact with and relate to the largest land mammal in North America.

The National Park Service is working with a myriad of bison partners to collect scientific data of the current state of DOI bison herds in order to model future management scenarios aiming to maximize the conservation value of DOI bison herds in the context of continental-wide species recovery efforts. This science-based collaboration will be helpful in determining the feasibility of reestablishing the ecological role of bison as a free-ranging keystone herbivore when and where it may be suitable—with respect to individual agency missions and objectives—and developing collaborative stewardship opportunities to ensure the ongoing restoration of wild bison.
National park biologists work to find solutions to conservation challenges everyday. Check out science in action, below!
Visit our keyboard shortcuts docs for details
Duration:

4 minutes, 3 seconds
The National Park Service manages 9,700 bison in 10 national park units. In 2017, bison were moved from Badlands National Park to Theodore Roosevelt National Park as part of a long-term genetic experiment.
Last updated: September 6, 2023