News Release
National Park Service Teams Up with Omega Psi Phi to Preserve Legacies of African American Leaders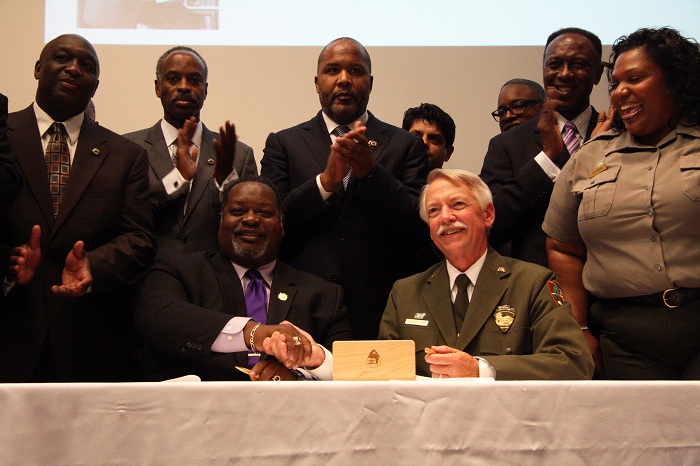 News Release Date: September 20, 2016

Contact: Jeremy Barnum, 202-208-6843
WASHINGTON – The National Park Service (NPS) and Omega Psi Phi Fraternity, Inc. (OPPF), have signed an agreement to work together to protect, preserve, and promote the NPS sites dedicated to the legacy of important African American figures in U.S. history. OPPF is the first predominantly African American fraternal organization to be founded at a historically black university. The agreement is the first of its kind between the NPS and a national African American organization.
NPS Director Jonathan B. Jarvis and OPPF Grand Basileus Antonio F. Knox, Sr. signed a memorandum of intent on September 15 to establish future national partnership and fundraising activities to benefit the Charles Young Buffalo Soldiers National Monument and Carter G. Woodson Home National Historic Site. The agreement was signed in a ceremony in Washington, DC.
"As America's storyteller, the National Park Service is dedicated to sharing a more complete and diverse history of our nation as we enter a second century of stewardship," Jarvis said. "We cannot fulfill that mission without the strong support of partner organizations that share our commitment and values like Omega Psi Phi."
"Linking our 854 chapters worldwide and thousands of Omega Men to the partnership with the National Park Service is only natural.It is natural because we both share in preserving the legacy of Col. Charles Young and Carter G. Woodson: two Omega Men, as well as, the legacy of the Buffalo Soldiers," Knox said. "We look forward to working together as partners and being the best Friends organization that the National Park Service can have."
Charles Young Buffalo Soldiers National Monument is dedicated to preserving Col. Young's legacy as a diplomat, civil rights leader, soldier, and the first African American National Park Superintendent. The Carter G. Woodson Home National Historic Site tells the story of the man known as "the Father of Black History" as Dr. Woodson created the first scholarly narrative of African American history.
Woodson and Young were both members of Omega Psi Phi, an international fraternity founded in 1911 at Howard University. Their impact on the nation and their communities remains an integral part of the fraternity's development of new members in its over 750 undergraduate and graduate chapters throughout the United States, Bermuda, Bahamas, Virgin Islands, South Korea, Japan, Liberia, Germany, and Kuwait. Over 250,000 men have been initiated into Omega Psi Phi. Other notable members include former NPS Director Robert G. Stanton; Langston Hughes;Michael Jordan;and numerous presidents of colleges and universities.
About the National Park Service. More than 20,000 National Park Service employees care for America's 413 national parks and work with communities across the nation to help preserve local history and create close-to-home recreational opportunities. Visit us at www.nps.gov, on Facebook www.facebook.com/nationalparkservice, Twitter www.twitter.com/natlparkservice, and YouTube www.youtube.com/nationalparkservice.
Last updated: October 4, 2016