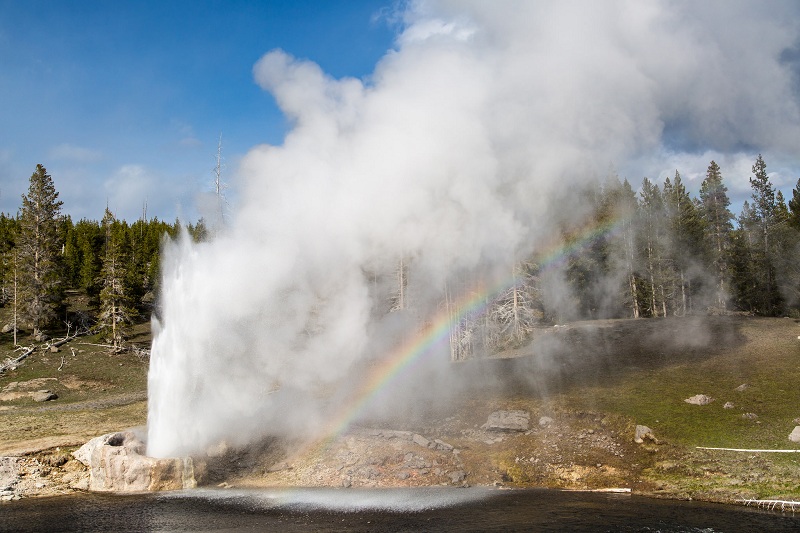 News Release Date: August 24, 2016

Contact: NPS Office of Communications, 202-208-6843
Contact: Tom Crosson, 202-208-3046
WASHINGTON – National Park Service (NPS) supporters, visitors and staff are celebrating the 100th anniversary of the National Park Service this week at 413 parks nationwide. The NPS is inviting everyone to join the celebration by visiting a national park this week. 
There are hundreds of events taking place around the country to celebrate the Centennial in unique, fun and engaging ways. From enjoying a concert, to having "Lattes with Lincoln" in Washington D.C., to taking nature hikes or attending historical presentations, to joining NPS staff in forming a living version of the National Park Service's iconic arrowhead emblem, visitors can be a part of the commemoration wherever they may be. 
National Park Service Director to Celebrate Centennial at Yellowstone National Park
National Park Service Director Jonathan B. Jarvis is celebrating the Centennial at Yellowstone National Park in Wyoming. Yellowstone, our nation's first national park, is hosting "An Evening at the Arch" on August 25th at 7 p.m. MDT. Director Jarvis will join Secretary of the Interior Sally Jewell, Montana Governor Steve Bullock, Wyoming Governor Matt Mead, and other distinguished guests and performers as they kick off the second century of the National Park Service, highlight the importance of the partnerships, and recognize the completion of the first phase of restoring the park's iconic Gardiner Gateway. 
"I'm honored to celebrate our Centennial at Yellowstone National Park, our first national park and the birthplace of what is often called 'America's Best Idea'…the National Park Service" said Jarvis. "To stand in this iconic park with so many strong supporters and partners to commemorate not only where we have come as a service, but what we are doing to preserve these spaces for our future generations, is a highlight of my 40-year ranger career."
"The National Park Service is unlike any other federal agency. We serve not only as stewards of the nation's greatest landscapes, but also as keepers of its cultural heritage," Jarvis added. "This Centennial is a celebration of our founders and their foresight to create an organization that embodies our highest ideals, our most symbolic places, and stands as the best national park system in the world." 
Yellowstone's "An Evening at the Arch" event will be live streamed to the public via this link: http://livestream.com/accounts/11206525/events/6052233
NOTE TO MEDIA: Director Jarvis will participate in a press conference at the Mammoth Hotel at Yellowstone National Park on August 25th at 12:30 MDT. Media interested in participating in this event should contact Tom Crosson at 202-208-3046.
Join the Nationwide Celebration
Here are just a few of the centennial events taking place in our national parks this week:
Living National Park Service Emblem: More than 1,000 participants will be assembled into a living arrowhead at the base of the Washington Monument onAugust 25th between 9 and 11 a.m. using brown, green and white umbrellas. This event is expected to create the world's largest National Park Service arrowhead.
Naturalization Ceremonies: Tomorrow, National Park Service and U.S. Citizenship and Immigration Services will hold naturalization ceremonies in seven national parks: Biscayne National Park, National Mall and Memorial Parks, Lewis and Clark National Historic Trial, Grand Canyon National Park, Harpers Ferry National Historical Park, Pictured Rocks National Lakeshore, and Women's Rights National Historical Park.
Explorer to Explorer with International Space Station: Girl Scouts and Boy Scouts at Lewis and Clark National Historical Park will speak with Astronaut Kate Rubins, a crewmember onboard the International Space Station. This event is scheduled to take place on September 3rd at approximately 11:20 a.m. PST.
Find Your Park on Fremont Street in Las Vegas: Videos and digital displays highlighting national parks will play throughout tomorrow evening on a 1500'x90' digital display as part of the Fremont Street Experience, in partnership with Lake Mead National Recreation Area.
Grand Canyon National Park Founders Day Celebration: Grand Canyon National Park in Arizona will host a park-wide celebration throughout the weekend with food, special programs, a train exhibit, a naturalization ceremony, and a concert.
To help everyone find a park to explore, the National Park Service is offering free admission to all 413 national parks from August 25th-August 28th as part of the 16 in 16' fee-free days.  
To celebrate the 100th anniversary and to look ahead to the next 100 years, the NPS and National Park Foundation launched the Find Your Park campaign. Inspiring people from all backgrounds to celebrate and support America's national parks and community-based programs, Find Your Park invites people to discover and share their own unique connections to our nation's natural landscapes, vibrant culture, and rich history. The NPS encourages everyone to Find Your Park during its centennial and beyond. Learn more about the campaign online by visiting www.FindYourPark.com.
About the National Park Service. More than 20,000 National Park Service employees care for America's 413 national parks and work with communities across the nation to help preserve local history and create close-to-home recreational opportunities. Visit us at www.nps.gov, on Facebook www.facebook.com/nationalparkservice, Twitter www.twitter.com/natlparkservice, and YouTube www.youtube.com/nationalparkservice.