News Release
National Park Service welcomes Dr. Sonia Sanchez as NPS Centennial Poet Laureate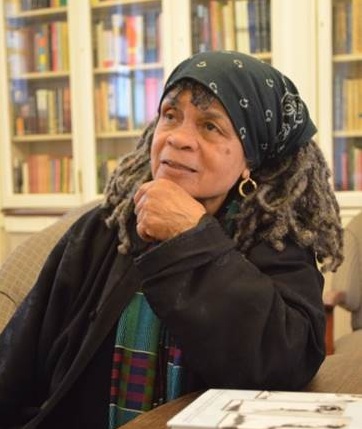 News Release Date: June 30, 2016

Contact: Nigel Fields, 504-589-3882 x224
Contact: Elizabeth Stern, 202-219-8933
Sanchez to participate in #FindYourPark programs in New Orleans
WASHINGTON –As part of its centennial commemoration, the National Park Service announces its designation of award-winning author, poet, and lecturer Dr. Sonia Sanchez as the poet laureate of the NPS Centennial.Sanchez will bring her powerful blend of art and activism to share the message that, in addition to breathtaking landscapes, the national park system includes places of cultural heritage and the struggle for social justice and civil rights -- places of inspiration, dialogue, and healing.
Sanchez has said, "I write to keep in contact with our ancestors and to spread truth to people." As poet laureate, her words about the national park system will reach new audiences that are familiar with her truth.Sanchez was the Laura Carnell Professor of English and Women's Studies at Temple University, and is the recipient of both the Robert Frost Medal for distinguished lifetime service to American poetry and the Langston Hughes Poetry Award. One of the most important writers of the Black Arts Movement, Sanchez is the author of more than 20 books.
"The National Park Service Centennial offers an incredible opportunity to invite new audiences to connect with the natural and cultural icons that we care for, especially sites of social and civic challenge and progress," said Jonathan B. Jarvis, director of the National Park Service."Dr. Sanchez inspires all of us with the power of her message of justice and empowerment, community, and the power of place.We are honored that as Centennial Poet Laureate, she is helping us extend the Find Your Park invitation to people around the world who are inspired by her life and work."
NPS Centennial Poet Laureate Programs during the Essence Festival presented by Coca-Cola
The National Park Service will welcome Sanchez as poet laureate during a series of programs co-hosted by New Orleans Jazz National Historical Park and Jean Lafitte National Historical Park and Preserve during the Essence Festival in New Orleans from July 1 through July 3, 2016.
Poetry and Music Program: What Will Freedom Be?

Friday, July 1, 6:00 p.m. to 8:30 p.m.

Ashe Cultural Arts Center, 1731 Baronne St., New Orleans

Words, rhythms, reflections, and vision celebrate 100 years of the National Park Service, take a look at where the journey has gone, and share ideas about where to go next.

6:00 p.m. to 7:00 p.m.: reception for participants, guests, and public.

7:00 p.m. to 8:30 p.m.: performances, poetry, and music by local artists and poets, the Nicholas Payton Trio, and NPS Centennial Poet Laureate Dr. Sonia Sanchez.

Maafa Commemoration

Saturday, July 2, 7:00 a.m.

Congo Square in Louis Armstrong Park, 701 N. Rampart St., New Orleans

The Maafa Commemoration remembers the transatlantic slave trade and other tragedies ("Maafa" is a Kiswahili word for "great tragedy") with a procession through the Treme neighborhood and the French Quarter led by Grand Griot Dr. Sonia Sanchez.

Find Your Park/Encuentra Tu Parque Event

Saturday, July 2, 11:00 a.m. to 4:00 p.m.

Jean Lafitte's French Quarter Visitor Center, 419 Decatur St., New Orleans

Humana, National Park Foundation premier partner for the Find Your Park movement and the official healthcare sponsor of the National Park Service Centennial, shares the "Bring the Parks to You" touring virtual reality exhibit.Also experience the giant #FindYourPark hashtag in front of the park's visitor center (perfect for pictures!) and take part in activities, healthy cooking demonstrations, and DJ performances.

Essence Festival presented by Coca-Cola

Sunday, July 3, 10:00 a.m. to 11:00 a.m.

Essence Festival Coca-Cola Stage at the Ernest N. Morial Convention Center, 900 Convention Center Blvd., New Orleans

Dr. Sonia Sanchez and the National Park Service take to the stage on the festival's "Inspiration Sunday."
All events listed above are free and open to the public. More information is available at https://www.nps.gov/jela/french-quarter-site.htm
#FindYourPark / #EncuentraTuParque for the Centennial
The parks' programs around the Essence Festival are part of the Find Your Park / Encuentra Tu Parque movement, which was launched in early 2015 by the National Park Service and the National Park Foundation to celebrate the centennial anniversary of the National Park Service. Inspiring people from all backgrounds to celebrate and support America's national parks and community-based programs, #FindYourPark invites people to discover and share their own unique connections to our nation's natural landscapes, vibrant culture, and rich history.
Some of the most admired companies in the world are supporting the National Park Foundation's efforts for #FindYourPark, including American Express, Budweiser, Subaru, REI, Humana and Disney. Additional partners include Coleman and Coca-Cola.
A full calendar of events taking place across the country to celebrate the National Park Service Centennial can be found at FindYourPark.com/Find.
More than 20,000 National Park Service employees care for America's 412 national parks and work with communities across the nation to help preserve local history and create close-to-home recreational opportunities. Visit us at www.nps.gov, on Facebook www.facebook.com/nationalparkservice, Twitter www.twitter.com/natlparkservice, and YouTube www.youtube.com/nationalparkservice.
New Orleans Jazz National Historical Park tells the story of the people and places that helped shape the birth and development of jazz in New Orleans. Free programs and musical performances at the park's visitor center in New Orleans and at the Louisiana State Museum's Old US Mint in New Orleans trace jazz history from African drumming through brass bands to today. For more information, call 504-589-4841 or visitwww.nps.gov/jazz or www.facebook.com/NolaJazzNHP.
The six sites of Jean Lafitte National Historical Park and Preserve are scattered across south Louisiana, with a visitor center in New Orleans' French Quarter, the natural beauty of the Barataria Preserve in Marrero, the site of 1815's Battle of New Orleans and a national cemetery in Chalmette, and Acadian (Cajun) cultural centers in Eunice, Lafayette, and Thibodaux. Living history events, wetlands walks, live music, and cultural programs share the area's story. For more information, call 504-589-3882 or visitwww.nps.gov/jela, www.facebook.com/JeanLafitteNPS, twitter.com/JeanLafitteNPS, or www.instagram.com/jeanlafittenps.
Last updated: July 8, 2016