French Quarter Visitor Center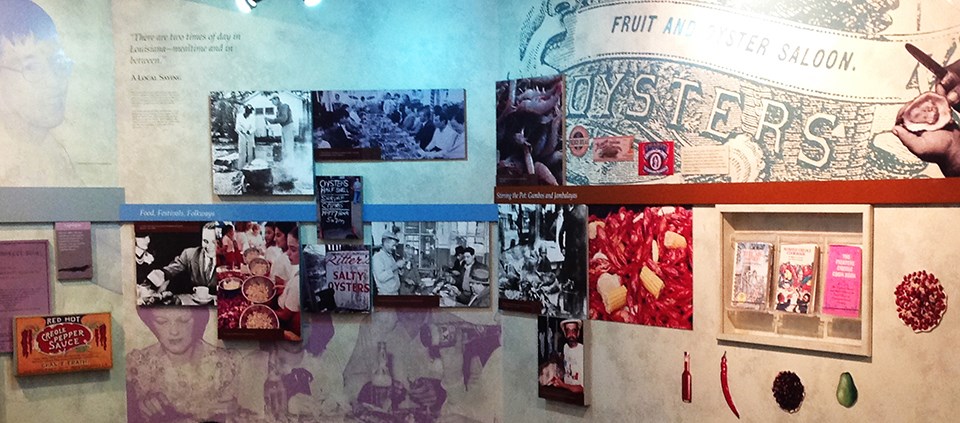 WHAT'S HAPPENING:
History talk - 9:30 a.m. Tuesdays through Saturdays. Join a ranger or park volunteer to discover New Orleans' history and culture. No talk on federal holidays, including Thursday, July 4, or on Mardi Gras (Tuesday, March 5, in 2019) when the visitor center is closed. Free.

New Orleans Then & Now - Explore local culture and history with experts. Follow the link for a pdf flier with the entire New Orleans Then & Now schedule to download, print, and share. Free.
Wednesday, June 5 - noon-1:00 p.m. Jazz Great Kid Ory with John McCusker
Thursday, June 6 - noon-1:00 p.m. Unearthing the French Quarter's Forgotten Cemeteries with Dr. Ryan Gray
Saturday, June 8 - 2:00-3:00 p.m. LGBT PRIDE: Past, Present and Future with Hannah Pepper-Cunningham.
Wednesday, June 12 - noon-1:00 p.m. Unheard Voices of Louisiana: The Hands that Rocked the Creole Cradle with Gumbo Marie
Thursday, June 13 - 2:00-3:00 p.m. Congo Square: African Roots in New Orleans - Freddi Williams Evans
Friday, June 14 - noon-1:00 p.m. The Ursuline Nuns Who Saved New Orleans with Emily Clark
Wednesday, June 19 - noon-1:00 p.m. American Indian Songs and Stories with Grayhawk
Thursday, June 20 - 2:00-3:00 p.m. Congo Square: African Roots in New Orleans - Freddi Williams Evans
Friday, June 21 - noon-1:00 p.m. The Mules of New Orleans with Charlotte Jones
Wednesday, June 26 - noon-1:00 p.m. The Rainbow Fleur de Lis: The French Quarter's LGBT+ Heritage with Frank Perez
Thursday, June 27 - 2:00-3:00 p.m. Congo Square: African Roots in New Orleans with Freddi Williams Evans
Saturday, June 29 - 2:00-3:00 p.m. From Plessy v. Ferguson to Plessy AND Ferguson with Keith Plessy and Phoebe Ferguson
Restoration Rx: A Morning with the Masters - 9:00 a.m.-noon, Saturday July 13. The park teams up with the New Orleans Master Crafts Guild and the Vieux Carre Commission Foundation to present experts who restore and maintain local historic properties and navigate the permits and regulations required for historic property work. Free.
New Orleans Master Crafts Guild experts master carpenter/millwright Dwayne Broussard, master blacksmith Darryl Reeves, and master plasterer Jeff Poree, Sr. will be on hand for demonstrations and to answer questions about topics from architectural elements to gates to furniture.
Preservation expert Erika Gates will provide information on working with the Vieux Carre Commission and on permitting and regulatory compliance within historic districts.
At 11:00 a.m., local architect Harvey Burns will present a talk about the 16-year-long project to restore the Antoine's Restaurant complex. The complex consist of 50,000 square feet throughout seven historic structures and four stories. Burns and his firm, Jahncke & Burns Architects, have modernized the historic restaurant and surrounding buildings to meet all regulatory requirements while maintaining and emphasizing the original character of New Orleans' oldest restaurant.

Music at Noon - noon-1:00 p.m., Wednesday, July 17. New Orleans Jazz National Historical Park ranger performs music from the park's CD "New Orleans at 300" on the piano. Free.


Special exhibit "The ART of Citizenship" - Who's a citizen? Who decides? Park staff, the Young Artist Movement and the Arts Council New Orleans considered these questions through dialogues, field trips, historical research, and guest speakers with the goal of creating a mural to share what they learned. The project was organized around The Chinese Exclusion Act, a 2017 documentary which shared the history of Chinese immigration to the United States and the impact of the 1882 federal law that specifically singled out people from China, excluding them from immigration and citizenship. The mural, on display at the French Quarter Visitor Center, shares visions of and questions about citizenship that are still under discussion today.Youth interns led by local artist Ayo Scott created the mural in summer 2018 with help from over 100 people who participated in a community paint day.
---

Shortly after the French founded New Orleans in 1718, engineers drew up a formal city plan for Nouvelle Orleans---the area that we now call the French Quarter. The city quickly expanded beyond those original boundaries to become an important American port. People arrived from all over the world, joining the early inhabitants of the area to create a distinct culture rich in food, music, and tradition.

Jean Lafitte's French Quarter Visitor Center shares the history and traditions of the city and the lower Mississippi River delta through visitor center exhibits and a film. Kids can earn a badge with the Junior Ranger program. The center's museum store has CDs, videos, collectibles, and books from history to cookbooks to children's stories. Admission is free. Follow these links for the park's calendar of events, exhibits, and programs; for directions and transportation options; and for accessibility information. Note that there is no parking available at the French Quarter Visitor Center but that there are several pay-to-park lots available within easy walking distance.
419 Decatur Street, New Orleans
504-589-3882 ext. 221
Open Tuesday-Saturday 9:00 a.m.-4:30 p.m. Closed on federal holidays and Mardi Gras (Tuesday, March 5, in 2019). Links to useful information like maps, public transportation, pets, permits for special uses, etc., are available on the basic information page.
Special programs by reservation:
For more about New Orleans, see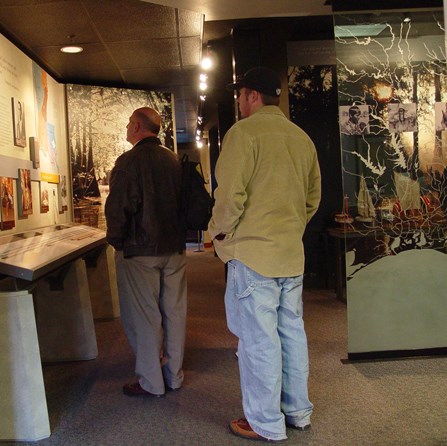 Last updated: June 21, 2019