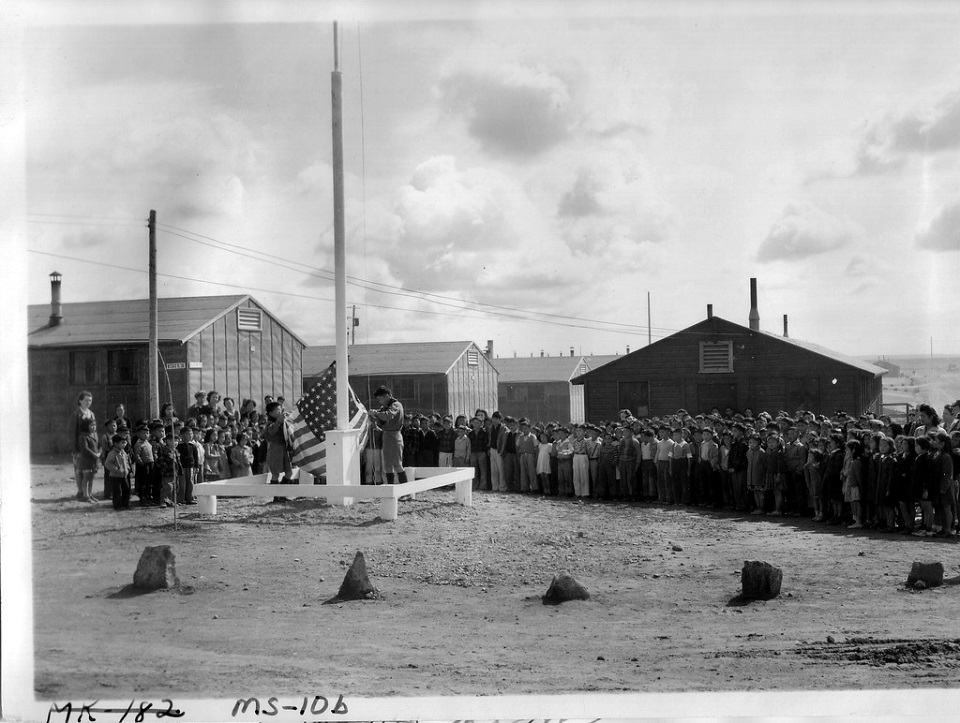 News Release Date: April 13, 2018

Contact: NPS Office of Communications
WASHINGTON –
The National Park Service today announced more than $1.3 million in grants to fund preservation, restoration, and education projects at World War II Japanese American Confinement Sites. These projects will help tell the story of the more than 120,000 Japanese Americans, two-thirds of whom were U.S. citizens, who were imprisoned by the U.S. government following the attack on Pearl Harbor in 1941.
"Using both traditional and innovative techniques, we are working with communities and partner organizations to preserve an important part of our nation's history," National Park Service Deputy Director Dan Smith said. "More than 75 years later, new generations of Americans can use these resources to learn the struggles and perseverance of Japanese Americans incarcerated during World War II."
Congress established the Japanese American Confinement Sites grant program in 2006. Today's announcement brings the current award total from the program to more than $25 million.
The grants will fund a diverse array of projects. Using grant funds, the Friends of Minidoka will digitize more than 1,000 items in their collection to share with the public the history of the Minidoka incarceration site in Idaho.
The Japanese American Service Committee, working in partnership with the Chicago Japanese American Historical Society, will preserve over 140 oral histories focused on the Military Intelligence Service and the broader experiences of those impacted by the WWII incarceration and resettlement process. They will also develop two multimedia exhibits and conduct teacher trainings to help educators integrate these materials into Chicago middle and high schools.
Japanese American Confinement Sites grants may be awarded to projects associated with the 10 War Relocation Authority centers established in 1942 and more than 40 additional confinement sites. The program's mission is to educate future generations about the injustice of the World War II confinement of Japanese Americans and to demonstrate the Nation's commitment to equal justice under the law. Successful proposals are chosen through a competitive process that requires applicants to match the grant award with $1 in non-federal funds or "in-kind" contributions for every $2 they receive in federal money.
A list of the projects receiving funding is below. For more details about these projects, visit
www.nps.gov/JACS/
.
For more information on the incarceration of Japanese Americans during World War II, visit:
www.nps.gov/subjects/worldwarii/internment.htm
.
Grantee




Project Title




Project Site

Grant Award Amount

Colorado Preservation, Inc.,

Colorado




"Amache Recreation Hall Restoration, Reconstruction and Interpretation"




Granada Relocation Center (Amache), Prowers County, Colorado

$290,344

Densho

, Washington




"Stories Less Told Part III: Oral Histories of Resettlement and Return"




Multiple Sites

$112,688

Fred T. Korematsu Institute,

California


"Developing Curriculum and Educating Through Film: 'And Then They Came for Us'"


Multiple Sites

$100,579

Friends of Minidoka

, Idaho


"Friends of Minidoka Collection Densho Digital Repository Project"




Minidoka Relocation Center, Jerome County, Idaho

$13,464

Full Spectrum Features

, Illinois




"Resistance & Resettlement: A Cinematic Digital History Project"




Heart Mountain Relocation Center, Park County, Wyoming; Rohwer Relocation Center, Desha County, Arkansas

$398,272

The Internet Archive

, California




"Digital Library of Japanese American Incarceration"




Multiple Sites

$47,624

National Japanese American Historical Society, Inc.

, California


"Bear Witness: Camp Oral History Digital Collections"


Multiple Sites

$119,750

Japanese American Service Committee,

Illinois




"Bridging Voices Project: Japanese American WWII Oral History Collection, Digitization, and Dissemination"




Multiple Sites

$191,226

Stanford University

, California


"Office of Redress Administration (ORA) Oral History Project"


Multiple Sites

$72,871

Total

$1,346,818
About the National Park Service. More than 20,000 National Park Service employees care for America's 417 national parks and work with communities across the nation to help preserve local history and create close-to-home recreational opportunities. Visit us at
www.nps.gov
,
on Facebook
www.facebook.com/nationalparkservice
, Twitter
www.twitter.com/natlparkservice
, and YouTube
www.youtube.com/nationalparkservice
.