News Release
Stanley Austin Named Director of National Park Service's Pacific West Region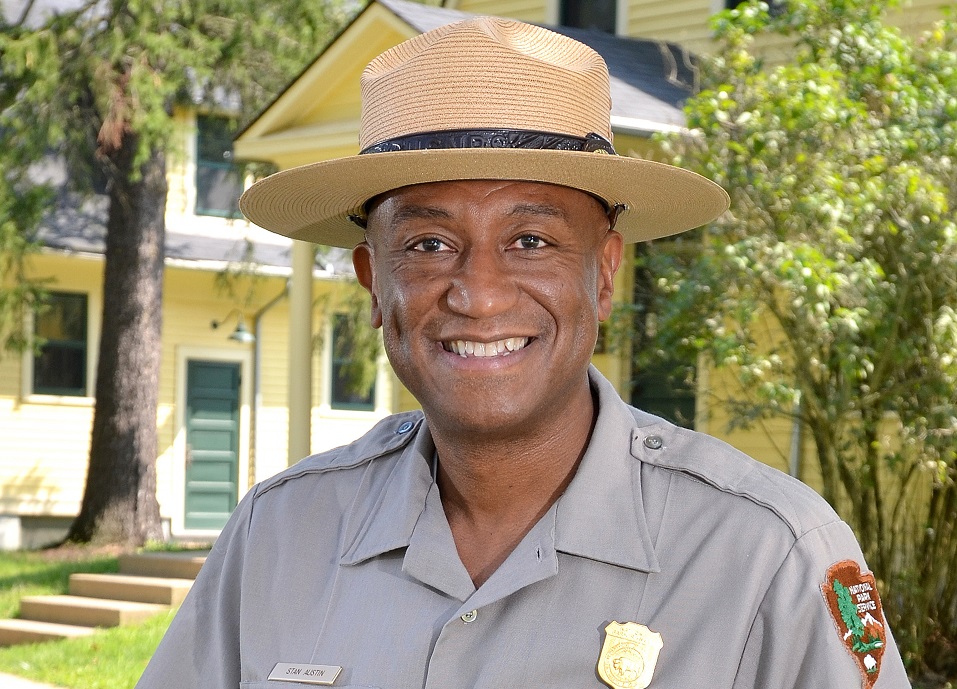 News Release Date: January 26, 2018

Contact: NPS Office of Communications
WASHINGTON -- Today, acting National Park Service (NPS) Director P. Daniel Smith announced the selection of Stanley J. Austin to be the regional director of the National Park Service's
Pacific West Region
. He currently serves as the regional director of the National Park Service's Southeast Region.
In his new role, Austin will oversee operations for more than 60 national parks, 241 national historic landmarks, 100 national natural landmarks and many other associated sites

within the eight states of California, Hawaii, Idaho, Nevada, Oregon, Washington, portions of Arizona and Montana and the territories of Guam, American Samoa, as well as the Commonwealth of Northern Mariana Islands.

 The region's parks host 66 million visitors a year and contribute $5 billion to local economies.
"Stan's outstanding work in the Southeast region and his deep understanding of the challenges and opportunities that we face across the organization make him the perfect fit for this important leadership position," said Smith. "Stan is a creative problem solver, who cares deeply about the workforce, and I am confident that he will bring vision and innovation to the great parks and people of the Pacific West Region."
"Having worked in the Pacific West, I am familiar with many of the wonderful people and places that make the region so special," Austin said. "I look forward to advancing the National Park Service's mission with the Pacific West Region's staff, partners, and communities who are often recognized as great thinkers, innovators and problem solvers."
In 2013, Austin was named as the NPS Southeast Regional Director, which spans 70 parks in 9 states, Puerto Rico and the U.S. Virgin Islands. Over the past 5 years, he has guided the region through many complex and sensitive issues, including restoration of the Everglades, multiple hurricanes and fires, and operational and workplace reform. He supported the expansion and name change of Martin Luther King, Jr. National Historical Park and oversaw the introduction of four new parks into the National Park System.
Austin began his career with the National Park Service at Gateway National Recreation Area as an interpretive park ranger, resource management specialist, and law enforcement ranger.
He later served as deputy superintendent of Rocky Mountain National Park in Colorado, superintendent of Glen Canyon National Recreation Area in Utah and Arizona, acting deputy superintendent at Yosemite National Park in California, and superintendent at Cuyahoga Valley National Park in Ohio.
As a Mike Mansfield Fellow, Austin spent two years in Tokyo, Japan working with the Government of Japan's Ministries of Construction and Environment. He also served on the Hurricane Mitch federal response team in Nicaragua providing hurricane relief assistance.
A New Jersey native, Stan Austin earned a bachelor of science in environmental sciences with a focus on biology from Rutgers University.
Austin will begin his assignment in the Pacific West region this spring. An announcement regarding leadership of the NPS Southeast Regional Office will be made once a selection is made for the position.

About the National Park Service. More than 20,000 National Park Service employees care for America's 417 national parks and work with communities across the nation to help preserve local history and create close-to-home recreational opportunities. Visit us at 
www.nps.gov
, on Facebook 
www.facebook.com/nationalparkservice
, Twitter 
www.twitter.com/natlparkservice
, and YouTube 
www.youtube.com/nationalparkservice
.
Last updated: January 26, 2018