News Release
National Park Service announces Mike Gauthier as Lake Mead National Recreation Area's new superintendent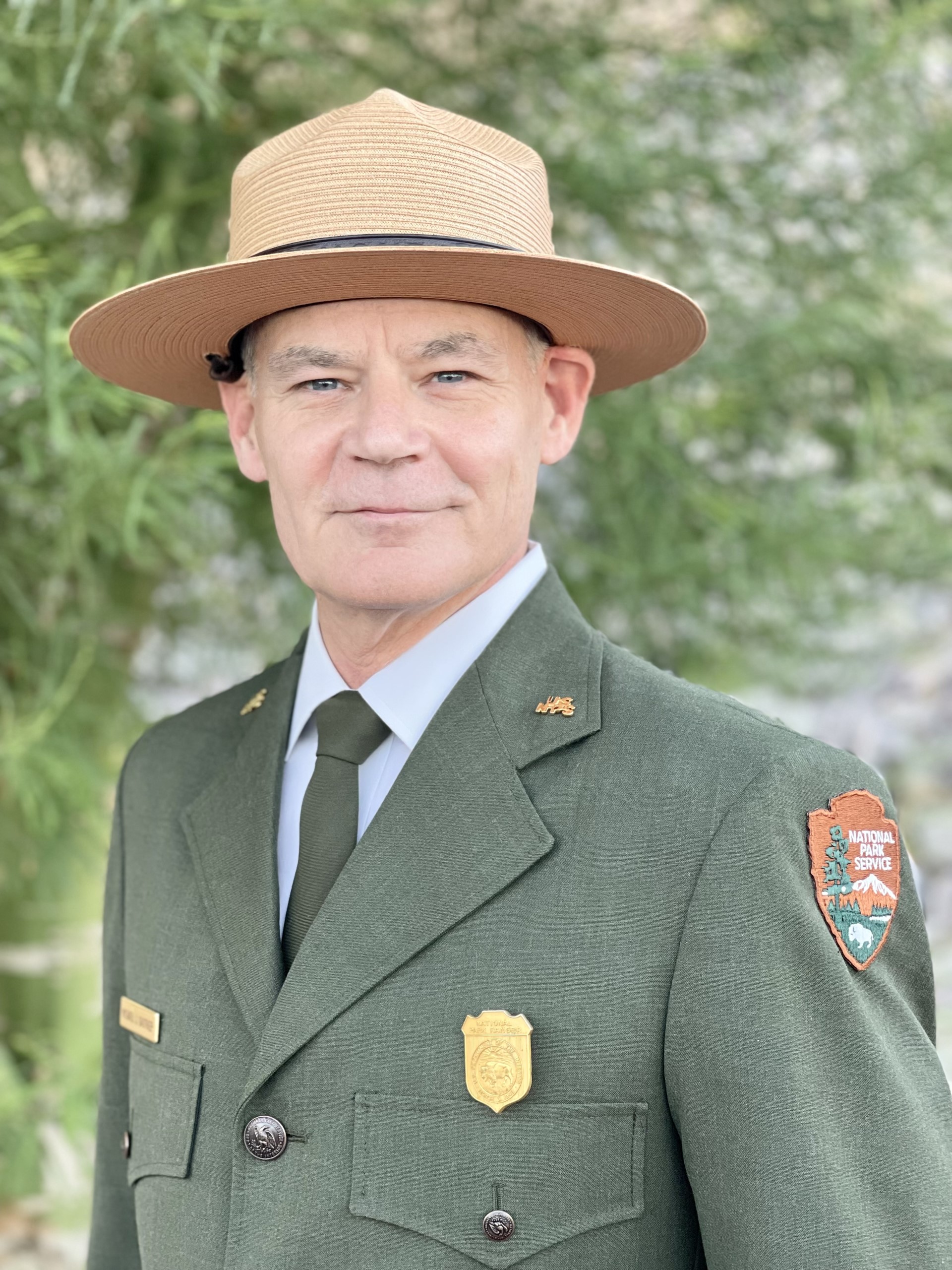 News Release Date: August 29, 2023
SAN FRANCISCO, Calif. – The National Park Service (NPS) has selected Mike Gauthier, a veteran of the agency, as the new permanent superintendent of Lake Mead National Recreation Area beginning mid-September. Gauthier has been the acting superintendent at Lake Mead since December 2022.   
Gauthier will continue to manage the large, heavily visited park that straddles the border between Nevada and Arizona. The site comprises 1.5 million acres, including part of Avi Kwa Ame National Monument and two reservoirs, Lake Mead and Lake Mohave.
"Mike is recognized for his excellent ability to build and maintain partnerships," said acting Regional Director William Shott. "At Lake Mead, he successfully took on a variety of complex management and operational issues proving his ability to lead effectively. In a short period of time, he has filled critical positions and engaged stakeholders, tribes, congressional delegations, and partners in addressing long-standing management challenges, which has paid dividends and moved the park forward for future success." 
In continuing his new role permanently, Gauthier will oversee 220 park employees and up to 4,000 volunteers. The park reports 5.6 million visitors annually. In this position, Gauthier serves as a key NPS leader for the Colorado River Steering Committee and maintains a close relationship with local, state, and federal agencies and private organizations interested in park uses and restoring and monitoring the integrity of the ecosystem.  
"It's been a sincere delight to work so closely with the community and friends who love Lake Mead NRA," said Gauthier. "The team of public servants at Lake Mead are exceptional, and I sincerely look forward to joining them permanently in order to meet today's recreational and protection challenges.  
Gauthier began his NPS career as a volunteer wilderness park ranger in Olympic National Park in 1985. He worked for nearly 20 years as a park ranger and later lead climbing ranger at Mount Rainier National Park. He has also served at Denali National Park and Preserve and as the acting superintendent at Cape Lookout National Seashore and Olympic National Park. 
Gauthier has held several other leadership roles in NPS. In 2008, Gauthier worked for one year with the U.S. Senate Energy and Natural Resources Committee and a second year with the Department of Interior (DOI) Assistant Secretary for Fish and Wildlife and Parks as part of the NPS Bevinetto Fellowship program.   
He served as the chief of staff at Yosemite National Park and as superintendent at Nez Perce National Historic Park. In 2019, he became the superintendent at Mojave National Preserve and Castle Mountains National Monument.   
As the superintendent of Nez Perce, he built a direct hiring pathway to recruit, train and hire Nez Perce Tribal youth through partnership grants, diversifying the workforce and fostering a stronger relationship with the Tribe. As the Mojave superintendent, he brought new and non-traditional partners from the entertainment industry. He helped grow the park's external support base and philanthropic partnerships.
He is a published author and photographer and has survived three lightning strikes while climbing the Grand Teton. He earned a Bachelor of Arts in History and an Executive Master's in Public Policy and Administration from the University of Washington.   
He enjoys photography, mountain climbing, and snowboarding. Gauthier and his fiancé reside in Laughlin, Nevada with their five rescue cats.  
Just minutes from Las Vegas, Lake Mead NRA offers Joshua trees, slot canyons and night skies illuminated by the Milky Way. The park's rocks are as red as fire and the mountains are purple majesties. Lake Mead is the country's first and largest national recreation area and the fifth most visited national park in the country. Follow us at www.nps.gov/lake or on Facebook, Twitter and Instagram.   
About the National Park Service. More than 20,000 National Park Service employees care for America's 425 national parks and work with communities across the nation to help preserve local history and create close-to-home recreational opportunities. Learn more at www.nps.gov, and on Facebook, Instagram, Twitter, and YouTube.  
 
Last updated: August 29, 2023