Contact Us
The National Park Service (NPS), a bureau with the Department of the Interior (DOI), has an Office of Native American Affairs (ONAA) based in Washington, DC, led by the NPS Native American Affairs Liaison, Assistant to the NPS Director. Email us for more information and questions about the ONAA.

There are also contacts in the NPS's regional offices throughout the country. See the map below to find which NPS regional office to contact.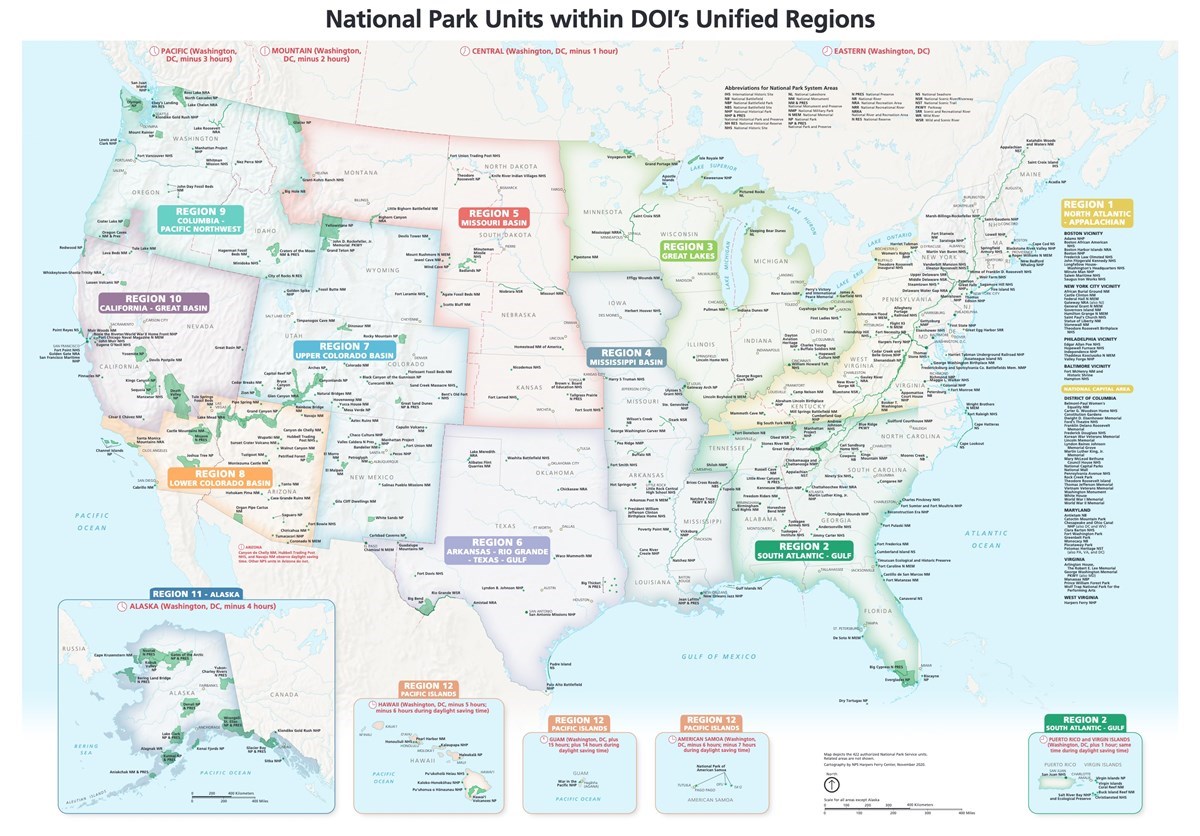 Map graphic titled "National Park Units within DOI's Unified Regions". The map graphic is intended a general visual reference showing how the National Park Service fits within the Department of the Interior's Unified Regions across the country. General information on the map graphic includes:

Region 1 North Atlantic - Appalachian and National Capital Area: includes sites in Connecticut, Delaware, District of Columbia, Kentucky, Maine, Maryland, Massachusetts, New Hampshire, New Jersey, New York, Pennsylvania, Rhode Island, Vermont, Virginia, and West Virginia.

Region 2 South Atlantic - Gulf: includes sites in Alabama, Georgia, North Carolina, Puerto Rico, South Carolina, and Tennessee.

Region 3 Great Lakes: includes sites in Illinois, Indiana, Michigan, Minnesota, Ohio, and Wisconsin.

Region 4 Mississippi Basin: includes sites in Arkansas, Iowa, Louisiana, Mississippi, and Missouri.

Region 5 Missouri Basin: includes sites in Kansas, Montana, Nebraska, North Dakota, and South Dakota.

Region 6 Arkansas - Rio Grande - Texas - Gulf: includes sites in Oklahoma and Texas.

Region 7 Upper Colorado Basin: includes sites in Colorado, New Mexico, Utah, and Wyoming.

Region 8 Lower Colorado Basin: includes sites in Arizona, southern Nevada, and southern California.

Region 9 Columbia - Pacific Northwest: includes sites in Idaho, most of Oregon, and Washington.

Region 10 California - Great Basin: includes sites in middle and north California and most of Nevada.

Region 11 Alaska: includes sites in Alaska.

Region 12 Pacific Islands: includes sites in America Samoa, Guam, and Hawaii.

National and Regional Contacts
Region
Contact / Email
Position Title
NPS National Headquarters
(Nationwide)
Dorothy FireCloud
National Park Service Office of Native American Affairs
1849 C Street NW
Washington, DC 20006
202-354-2126
NPS Native American Affairs Liaison, Assistant to the Director
Region 1 National Capital Area
(includes District of Columbia and neighboring areas in Maryland and Virginia)
Noel Lopez
Cultural Anthropologist
Region 1: North Atlantic - Appalachian
(includes Connecticut, Delaware, Kentucky, Maine, Maryland, Massachusetts, New Hampshire, New Jersey, New York, Pennsylvania, Rhode Island, Vermont, Virginia, and West Virginia)
Eric Chiasson
Regional Tribal Liaison
Region 2: South Atlantic
(includes Alabama, Georgia, North Carolina, Puerto Rico, South Carolina, and Tennessee)
Amanda Griffis
Cultural Anthropologist
Region 3, 4, and 5: Great Lakes, Mississippi Basin, and Missouri Basin
(includes Arkansas, Illinois, Indiana, Iowa, Kansas, Louisiana, Michigan, Minnesota, Mississippi, Missouri, Montana, Nebraska, North Dakota, Ohio, South Dakota, and Wisconsin)
Kathy Boden
Tribal Relations Program Coordinator
Region 6, 7, and 8: Arkansas - Rio Grande - Texas - Gulf, Upper Colorado Basin, and Lower Colorado Basin
(includes Arizona, southern California, Colorado, southern Nevada, New Mexico, Oklahoma, Texas, Utah, and Wyoming)
Melissa Castiano
Regional Tribal Liaison
Regions 9, 10, and 12: Columbia - Northwest and Great Basin
(includes northern California, Idaho, Oregon, and Washington)
Jason Lyon
Cultural Anthropologist
Region 11: Alaska
(includes Alaska)
Maija Lukin
Native Relations Program Manager
Region 12: Pacific Islands
(includes American Samoa, Guam, and Hawaii)
Melia Lane-Kamahele
Manager
Additional NPS Contacts
Partner Contacts
Last updated: October 19, 2023