American Solar Challenge 2022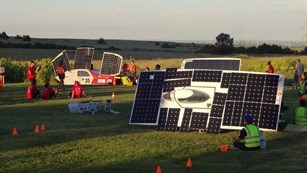 Plan your visit to the ASC
Interested in technology and history? Plan a visit to the American Solar Challenge 2022 on the Oregon Trail!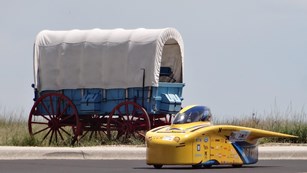 Learn about the ASC
Want to know more about the American Solar Challenge or the Oregon Trail? Click here!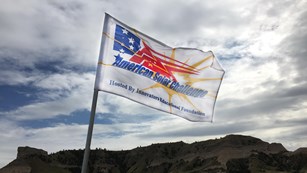 Get Involved with the ASC
Looking for news and other updates about the American Solar Challenge? Or want to help spread the word? Connect with us on social media!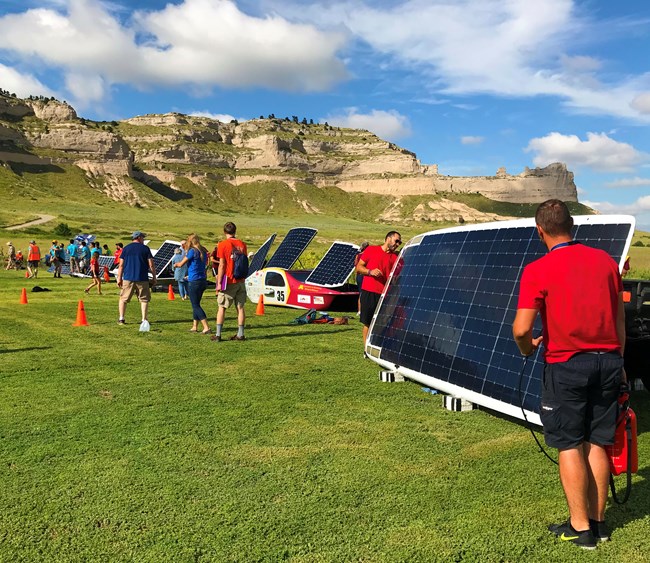 What do oxen and solar cars have in common?
They're both powered by the sun!
From July 8th - July 16th, 2022, collegiate solar car teams will compete in the American Solar Challenge along portions of the Oregon Trail and you're invited to join in the fun!
Qualified teams will make daily stops in communities and national parks along the route. Come see the cars, explore the history and beautiful landscapes of the Santa Fe Trail, and discover solar technology!
National Trails has partnered with the Innovators Educational Foundation to bring the American Solar Challenge to the Oregon National Historic Trail.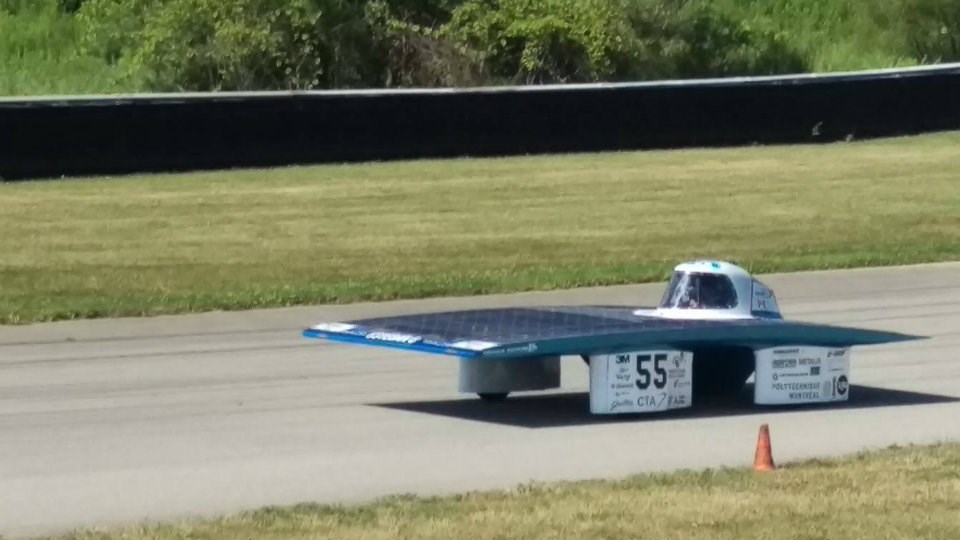 Left image
Wagon innovations allowed the movement of entire families overland with their belongings.
Credit: NPS Photo
Right image
ASC teams build solar cars to withstand road conditions and efficiently capture, store, and use solar energy to power the entire trip.
Credit: American Solar Challenge 2016
For both modern solar pioneers and Oregon Trail emigrants alike, energy efficiency has been a challenge. Since the sun is the only source of fuel for the ASC cars, teams keep a close eye on the weather and how it will affect the energy their cars collect and expend. Cars are designed to be lightweight and minimize friction in order to increase energy efficiency, which leads to their streamlined appearance, narrow wheels – sometimes only three of them – and broad surfaces covered with solar panels. Where the solar car trades bulky storage space for quick travel between stops, the "prairie schooner" design provided a home for the many nights between supply stations or settlements. A truly off-road vehicle, the covered wagon had large wooden wheels to move over rough ground. The wheels were covered with an iron band to protect the wooden rim, and the front pair were smaller to make turning easier. Teams in the ASC use their understanding of engineering and electronics to design strong, efficient motors that are capable of climbing 3,000 feet through South Pass. A covered wagon's "engine" was just as important. Horses, mules, bulls, and cows could pull wagons, but oxen were generally considered the best choice due to their power and adaptability to water and feed conditions along the trail. Of course, just as repeated testing for solar car systems is necessary, training the oxen was of utmost importance; in fact, it could mean life or death when sounds or movements could startle them and cause a stampede.
Over-packing seems to be a timeless challenge. Aware that they needed to be prepared for anything, not knowing what they would truly need, and at times convinced by suppliers to make last-chance purchases at jumping-off points, emigrants' heavy wagons made for slow-going. That, in turn, made it more likely they would run out of water and food before reaching the next watering hole or supply station. Added weight is also a factor that some teams with solar cars carrying up to four people must consider. Get information about this year's teams and follow links to learn more about their cars.
Last updated: June 3, 2022