Visiting Staircase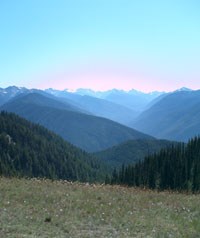 Overview
Enormous trunks reach for the sky, lacy limbs stretch to the sun, grooved bark is sanctuary to tiny creatures in the vast cathedral of Douglas-firs that dominate the forests on this side of the Olympic Peninsula.
Staircase is located in the southeastern corner of Olympic National Park, about a one-hour drive from Olympia, and two hours south of Port Angeles (directions).
The access road to the Staircase area is unpaved and periodically closes due to unfavorable weather conditions such as snow. Make sure to check the status of the road before planning your trip.
A general map and information regarding facilities, picnic areas, camping, and regulations can be found on the park's Staircase brochure.
Places to Stay

Staircase has a campground with 49 sites. Nearby lodging can be found through the Mason County website explorehoodcanal.com.
Recreation

A variety of hiking trails navigate through the Staircase area along the Skokomish River and the nearby forests.
There are several short day-hikes that explore the area. Shady Lane trail is flat, and less than a mile to Lake Cushman. The hike to Flapjack Lakes is for the stronger hikers, gaining over 3,000 feet in elevation.
Longer hikes, like the North Fork Skokomish River trail, can be done in a couple of days.
Nearby Areas

Check the Getting Around page for mileages to other park destinations.
Last updated: March 28, 2023