Deaf / Hard of Hearing
Olympic National Park is committed to providing a welcoming park experience for visitors who are Deaf or Hard of Hearing. The following services are currently available, though park managers and frontline staff are continually working to make Olympic accessible to all visitors. If you have suggestions or requests to make your visit easier, please
Contact Us
in advance.
Requesting an Interpreter
American Sign Language (ASL) interpretation is available at no cost for any
scheduled ranger-led program or event.
Due to the remoteness of some park locations, please provide at least 14 days notice to request an ASL interpreter. To make your request, please contact us
by Email
or by phone at 360-565-3130.
Signing Rangers
Dependning on seasons and staffing abilities, some ASL-fluent park rangers (though not necessarily certied sign language interpreters) may be on staff. Many others are learning ASL, however, and are happy to provide park information and orientation—and learn some new signs, as well! Please contact us
by Email
or by phone at 360-565-3130 to ask about available services, and be sure to check out her Frequently Asked Questions videos, below.
Captioning & Hearing Assisted Technology (HAT)
Two park films—
Mosaic of Diversity
and
Life on the Edge
—are closed-captioned and available upon request at the
Olympic National Park Visitor Center
and the
Hurricane Ridge Visitor Center
near Port Angeles, WA.
Assistive listening systems that amplify presentation sounds for individual listeners are available for park films (see above) and at campground amphitheaters during ranger-led Evening Programs. Portable assistive listening devices may also be deployed to other park events and programs (see the park
Calendar
for times and locations)—please
Contact Us
to make arrangements in advance.
Rangers and volunteers can wear headphone microphones upon request.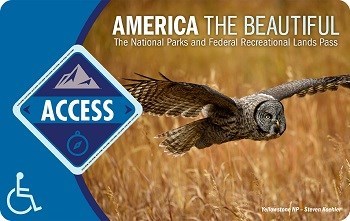 Access Pass
The Access Pass—part of the
America the Beautiful - National Parks and Federal Recreational Lands Pass series
—is a lifetime pass available free for U.S. citizens and permanent residents with permanent disabilities. You can apply for and obtain your Access Pass in person at Olympic National Park Visitor Center in Port Angeles, WA, or at any staffed entrance fee booth throuhout the park. Please review these
frequently asked questions about the Access Pass
to learn more, including any required documentation and how to order an Access Pass online or by mail (processing fees may apply).
Frequently Asked Questions Videos
Visit our keyboard shortcuts docs for details
Duration:

1 minute, 19 seconds
Are you interested in visiting Olympic National Park? Do you need an American Sign Language (ASL) interpreter? Check out this video for details on how to request an interpreter, free of cost, for your visit.
Visit our keyboard shortcuts docs for details
Duration:

1 minute, 11 seconds
An Access Pass is a great way to enjoy your national parks and other federal recreation sites. This lifetime pass provides free entry to Olympic National Park, as well as 50% discounts on expanded amenities fees like camping. Deaf/Hard of Hearing visitors with appropriate documentation qualify for an Access Pass. Ask a ranger about getting yours today!
Last updated: December 10, 2021