Seven-Acre Godkin Fire Spotted Deep in Olympic National Park Wilderness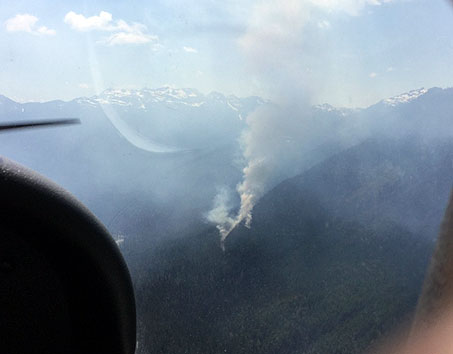 News Release Date:
July 26, 2016
Contact: Barb Maynes, 360-565-3005
Park staff confirmed late yesterday that an approximately seven-acrewildland fire is burning in the wilderness of the Elwha River valley. The fireis located about 25 miles south of Port Angeles, in approximately thegeographic center of Olympic National Park. The fire was ignited during lastThursday's series of storms, which led to over 400 lightning strikes over theOlympic Mountains, along with significant rainfall.
A fire monitor flew over the area yesterday and observedthe fire near the confluence of Godkin Creek and the Elwha River. The fire isburning in extremely rugged and steep terrain on the west side of the valley,about a third of a mile uphill from the river at an elevation of 2,300 feet.
"We will continue to monitor this fire and plan to usenatural barriers such as rock outcrops, landslides and the river to limit itsgrowth," said Olympic National Park Acting Superintendent Rachel Spector. "Humansafety is our top priority and any response to a wilderness fire will addressfirefighter safety as our first concern."
A six-person crew, comprised of Olympic National Park andOlympic National Forest firefighters, will be flown to the fire area today andwill begin on-the-ground assessment of the fire, fuel moisture and otherconditions.
The short term weather forecast is calling for continuedmoist conditions with a warming trend this week, to be followed by coolerconditions next week. Unlike 2015, this summer's weather and fuel conditionsare average for the Olympic Mountains, leading to a much more typical fireseason for the area.
The closest park facilities to the fire are the Elwha RiverTrail and Camp Wilder Shelter, both of which are located across the river fromthe fire and are not at risk. The fire is about 15 miles south of HurricaneRidge, but may be visible from that area, depending on conditions.
For more information about fire management and fire historyin Olympic National Park, people should visit the park website at https://www.nps.gov/olym/learn/management/fire-management-1.htm
Additional information will be available tomorrow, onceground-based and additional aerial monitoring has been accomplished.
Last updated: July 27, 2016