Forests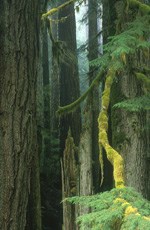 " to preserve...the finest sample of primeval forests of Sitka spruce, western hemlock, Douglas fir, and western red-cedar in the entire United States..."
These are the forests of Olympic National Park described in the 1938 act establishing the park. Now the diverse forest communities of the park and neighboring wilderness areas in Olympic National Forest are even more significant as rare islands of habitat surrounded by altered landscapes.
They form a dynamic green canvas from tree line to coast. Heavy snow, avalanches, fire, wind storms, landslides and flooding all interact to rearrange the colors or reset the clock. But the resulting forests are a vibrant, ever-changing palette of greens, textures, species and ages.
Some areas nurture trees that sprouted when the Mayan culture was thriving in the jungles of central America. While youthful willows and red alders sprout and die regularly on shifting gravel bars in the park's rivers.
Ecologists often classify forests by their elevation zone. Click below to learn more about each of these forest communities.


Last updated: February 28, 2015