Montane Forests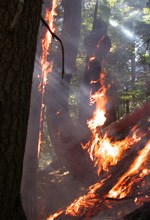 As you climb from river valleys toward the peaks you enter the montane zone, where new characters enter the forest stage. Montane forest begins at about 1,500­–2,000 feet and­­ transitions into subalpine forests at about 4,000 feet. On the wetter west side of the park, silver fir becomes a major player along side western hemlock. On the drier east side silver fir enters, but only on cooler, north-facing slopes. On sunny, south-facing slopes, Douglas-fir and western hemlock dominate and fire plays an active role in creating a mosaic of different-aged forest.
These forests cover thousands of acres of Olympic National Park's mountain slopes where growing conditions are more challenging than the lowlands. Montane trees grown more slowly, but many are still centuries old. In fact, a 12-foot wide record Alaska yellow cedar grows in montane forest above the North Fork Quinault River.
Where to See Montane Forest
The Hurricane Ridge and Deer Park roads both traverse montane forest enroute to the mountains. All trails that lead to the high country also cross the montane zone.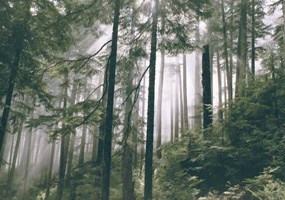 Common Trees
Alaska yellow-cedar – Chaemaecyparis nootkatensis
Douglas-fir – Pseudotsuga menziesii
Silver fir – Abies amabilis
Western hemlock – Tsuga heterophylla
Western redcedar – Thuja plicata
Common Shrubs
Salal – Gaultheria shallon
Oregon grape – Berberis nervosa
Huckleberries – Vaccinium sp.
Fool's huckleberry – Menziesia ferruginea
Devil's club – Oplopanx horridus
Pacific rhododendron – Rhododendron macrophyllum (primarily east side forests)
Bearberry – Arctostaphylos uva-ursi
Common Wildflowers
Coralroot – Corallorhiza mertensiana
Bunchberry – Cornus unalaschkensis
Bead lily – Clintonia uniflora
Evergreen violet – Viola sempervirens
Goatsbeard – Aruncus dioicus
Pyrola – Pyrola sp.


Last updated: February 28, 2015