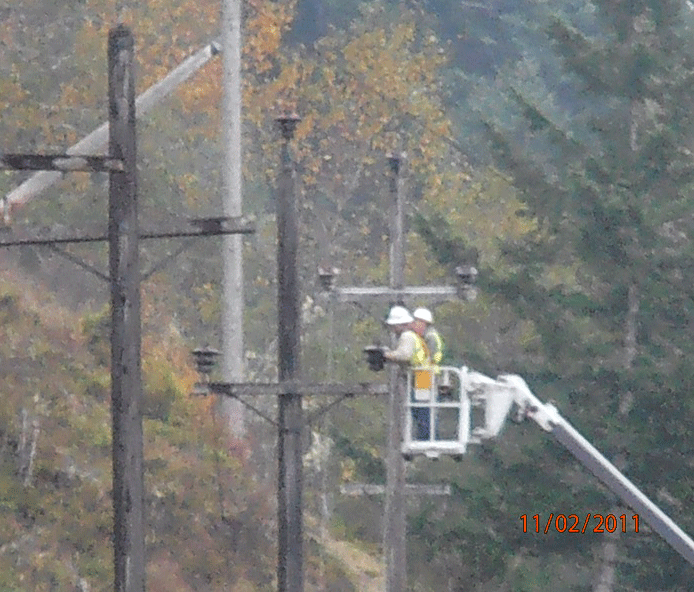 Transmission Lines Gone; Elwha Powerhouse Going
December 14, 2011
Contractors continue to make progress on Elwha River Restoration, even during this 'fish window' (when contractor-caused sediment releases are banned.) Elements of the work that do not affect water quality are still ongoing.
Elwha Dam
Demolition of the Elwha Dam powerhouse continues this week, with completion scheduled for the end of December. The surge tank, which protected the former hydroelectric plant from the effects of 'water hammer' (in the event of a sudden turbine shutdown,) will be toppled today and removed in pieces this week. Materials from the old power plant are being sorted and trucked out for re-use, recycling or disposal. Nearly all of the material will be re-used or recycled.
Glines Canyon Dam
With the fish window winding down, Barnard staff is preparing for dam removal work to begin again on January 2. Modifications to the large crane are almost done, with a new ringer and pedestal installed at the base of the crane. These enhancements re-distribute the load over a larger area, increasing the reach and capacity of the crane and allowing the contractor to continue operations without moving the crane. Workers will also be working on setting up the barge and excavator-mounted hammer so that notching can begin again at the Glines Canyon dam.
Electric Transmission Line Removal
This phase of the restoration project has been completed, and all the old lines and power poles associated with the Elwha dams and hydro plants are gone.