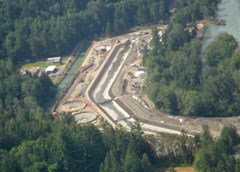 Elwha Water Facilities
The Elwha Water Facilities includes several component projects:
Elwha Surface Water Intake (ESWI)
Elwha Water Treatment Plant (EWTP)
Area Flood Protection
The Elwha River Ecosystem and Fisheries Restoration Act of 1992 requires "protection of the existing quality and availability of water from the Elwha River for municipal and industrial uses from [the] possible adverse impacts of dam removal" (Section 4(a)(3)). In the 90-plus years since the dams were built, large amounts of sediment have accumulated at the bottom of the two reservoirs, most of it in a delta at the head of Lake Mills. Extensive testing and modeling has shown that protection measures are necessary to meet the requirements of the Elwha Act.