Outdoor Activities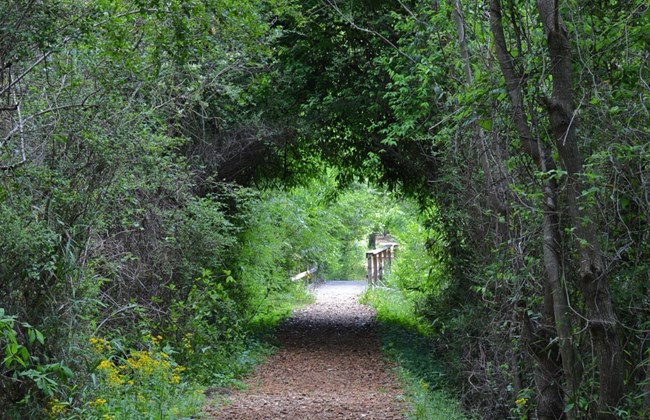 Park Trails
Ocmulgee Mounds National Historical Park has 8 miles of peaceful trails that give visitors opportunities to see 7 historical mounds as well as vibrant wetlands and forest environments. Most of the trails are a mile or less in length (one-way), but can be joined together to form longer loops if desired. Park benches are placed at various places along the trails for visitor convenience.
Trail Rules
All visitors must be out of the park by 5:00PM.
For your protection, please stay off the mound slopes.
Pets are welcome but must be on a leash at all times.
Fishing is permitted on the banks of the creek, river, and Clay pond. A valid state fishing license is required. Fishing is NOT permitted from boardwalks and bridges.
Bikes and ebikes are ONLY allowed on the River Trail, Heritage Trail, and road.
Picnic in the picnic area only; no fires are permitted. If you need additional information, please call the Visitor Center at (478) 752-8257.
Trails and Distances
Visitor Center to the Great Temple Mound (Main Path)- 1/2 mile
This trail leads to three of Ocmulgee's most popular points of interest – the Earth Lodge, the Trading Post site, and the Great and Lesser Temple Mounds.

Dunlap Trail- 1/4 mile
This trail leads to one of a few surviving Civil War earthworks in Macon, and to the Dunlap Mound.The Civil War earthworks were constructed after the Battle of Dunlap Hill which took place July 30, 1864. The earthwork was used again that same year in November during the Battle of Walnut Creek. It is named after Samuel Dunlap, who purchased the property in 1856 to build his house and establish a dairy farm. The Dunlap House is a private residence today.
McDougal Trail- 1/2 mile
This trail is named after Captain Robert McDougal, who was in command of Fort Hawkins in 1809. McDougal died in 1809, and according to legend, was buried in a small Indian mound near the fort, but archaeologists did not find any human remains in the mound during the excavations in the 1930s. There were three smaller mounds between the McDougal Mound and the fort which were destroyed during expansion and construction of Macon.
Heritage Trail- 1 3/4 miles
This trail is a bike trail in the park.It begins behind the visitor center and goes to the Clinton Street foot gate which is open from 9:00 AM-5:00 PM daily. Along the trail you may encounter deer, woodpeckers, and lizards. The Heritage trail goes along the Ocmulgee River. This part of the trail is handicap accessible and is 1 mile.
Opelofa Trail- 1 mile
"Opelofa" is a Creek word which means "like-a-swamp."There is abundant wildlife in the wetlands this trail runs through. It is great for bird watching;you may see egrets, osprey, herrings, and anhinga. The Walnut Creek wetlands has fish, turtles, frogs, and snakes. Part of the trail borders Walnut Creek which is occasionally home to beaver.
Opelofa Loop Trail- 1/4 mile
This quirky trail is an offshoot of the longer Opelofa Trail. The trail loops through woods before running parallel to Walnut Creek. Hikers should be aware that there is a small drop-off to one side of the trail during this portion. Walnut Creek is home to reptiles, amphibians, and the occasional beaver and otter.

Bartram Trail- 3/4 mile
William Bartram (1739-1823) was a well-known naturalist who traveled through this area in 1774 and 1776. Bartram wrote about the "Old Ocmulgee Fields" in his journal. This trail winds lazily through the woods on both sides of the railroad bridge, which was built in 1874 and is on the National Historic Register. Walking this trail, you may encounter deer, squirrels, chipmunks, lizards and many varieties of birds.
The Southeast Mound Trail– 1/4 mile
This trail travels from the southeast corner of the Trading Post site to the Southeast Mound, and then south through the woods a short way to end at the park road. Little is known about this mound. Archaeologists believe it may have been damaged by plowing and erosion.
The Hitchiti Village Site Trail– 1/4 mile
This trail starts at the Trading Post Site and winds through a small area of woodland. Early Creek Indians (late 1600's) are believed to have occupied this area prior to the Yamassee War of 1715. Wildlife you may encounter on this trail are deer, turtles, squirrels, snakes, lizards and a variety of bird species.
River Trail– 1/2 mile
This trail winds through a wooded area to the Ocmulgee River. It borders Walnut Creek to where it meets the river, making it a good place to potentially see wildlife. However, visitors have occasionally encountered dangerous wildlife such as alligators along this trail or the river. Be aware of your surroundings as you walk along this trail and the river.
Funeral Mound Loop– 1/4 mile
This loop trail starts near the Funeral Mound parking lot at the end of the park road. It explores a more secluded part of the park as it descends from open fields alongside the park road into a stand of trees.
Corn Field Mound Trail– 1/4 mile
This trail is a grass trail that goes past the Corn Field Mound and prehistoric trenches, and ends at the Heritage Trail. The Corn Field Mound is believed to have originally been a ceremonial cornfield. Later the mound was built over the field. The purpose of the prehistoric trenches is unknown; it could have been used for a fortification or for borrow pits for mound building.


Last updated: July 25, 2023