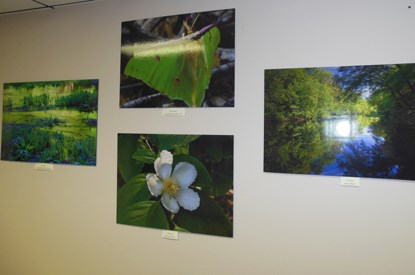 The Obed Wild and Scenic River will begin an Art in the Park program in 2012. Interested artists, painters and photographers are invited to visit the various sections of the park and receive visual inspiration. We would like to display your artwork inside our park's visitor center. We are looking for watercolor paintings, pastels, oil paintings, color and black and white photographs, etc., to enliven our visitor center.
Many National Park Service sites throughout America have adopted the Art in the Park program to build interest in their parks, and to draw out talented individuals who can -- through their talents -- add to the beauty of a park. The Obed WSR plans to be one of those parks, where our visitors' artistic abilities have a welcome home. Your own creativity and your willingness to express yourself through your art will in turn invite more visitors to our park.
The Art in the Park program, though young in years, is a splendid way to show off the Obed WSR to not just the local community, but also to the rest of our visitors who come here each year from all parts of the country and the world. In the future, this webpage will be used to exhibit the artwork that is submitted to our park.
Please contact the park at 423-346-6294, to find out more about this interesting program.